Office of Testing Services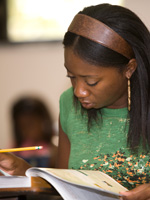 As one of the components of the Student Affairs Division, The Office of Testing Services exists to enhance the accurate placement of Pre-College/Summer Bridge students and entering freshmen into appropriately challenging courses, awards Advance Placement Credit for English and mathematics based on qualifying SAT and GRE scores only and interprets International Baccalaureate (IB) scores.The Office of Testing Services does not interpret AP transcripts. AP transcripts are interpreted by the Registrar's Office.
Testing Services also serves all Hampton University students as well as citizens from the surrounding community who register to take national exams at the University.