About Robert F. Smith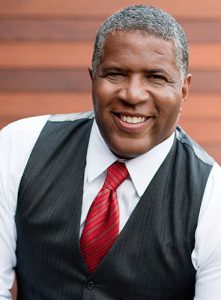 As Founder, Chairman and CEO of Vista Equity Partners, Robert F. Smith has a long history of creating big change through business and entrepreneurship. He also has focused his philanthropic efforts on programs in the African American community, including supporting initiatives to lift up hard-working students.
"We have systemic issues that are caused by systemic racism that need to be deconstructed," Smith said in a TIME 100 honoree talk, where he called on executives to do more than offer "perfunctory" donations "that are a mere drop in the bucket." Instead of just one donation, as unprecedented as it was, Smith decided to make generational change.
"It is incumbent upon me to do my part to educate, awaken and enable all those who want to participate…in this moment of inflection," he said.
Robert F. Smith and Student Freedom Initiative
When Smith spoke at the Morehouse College commencement in May 2019, the idea for Student Freedom Initiative was still growing. By the end of that speech, he had announced that he would be donating $34 million to pay off the student loan debt of the entire graduating class, including loans taken on by their parents. But that was only the beginning of Smith's work to alleviate student loan debt. As Smith has noted, it takes more than just one act to create lasting change.
"Each year, thousands of black graduates from HBCUs across America enter the workforce with a crushing debt burden that stunts future decisions and prevents opportunities and choices," Smith said. "The Initiative is purposefully built to redress historic economic and social inequities and to offer a sustainable, scalable platform to invest in the education of future Black leaders."
As a HBCU, Hampton University is well aware of the potential of its students and graduates. The goal of every parent, teacher and mentor within the Hampton community is to see graduates thrive and inspire their peers and generations to come. But they can't achieve their full potential if saddled with student loan debt that could stifle their job choices and career path.
"The Student Freedom Initiative is inspired by our common goal of liberating the human spirit by removing the systemic barriers that prevent students from maximizing their opportunities in life," said Smith. "By addressing the financial stress of college and providing students with resources and community, we can finally broaden the talent pipeline and create a more diverse and thriving economy."
A History of Hard Work and Philanthropy
Smith believes strongly in the power of education and dedicated scholarship, and his own history of hard work and scholarship reflects his drive to achieve. As a high school student in Denver, CO, he tirelessly worked to earn a coveted internship at Bell Labs — an opportunity traditionally awarded to college students. With persistence and an academic background that spoke to his abilities, he was offered the opportunity to learn at Bell. After earning his Engineering degree at Cornell University, and later an MBA at Columbia, Smith went on to work in the engineering field at Goodyear Tire and Rubber and Kraft General Foods, and through his hard work was awarded four patents.
Later growing his interests in technology and entrepreneurship, Smith worked in the Mergers & Acquisitions department at Goldman Sachs, and worked with leaders in Silicon Valley, including IBM and Apple. He then left Goldman and founded his own company, Vista Equity Partners, in 2000. After two decades, Vista is one of the leading private equity firms in the world, and exclusively invests in enterprise software companies.
Smith's philanthropic work focuses on those programs that will lift the human spirit. He has been honored with distinctions for his efforts, including:
Carnegie Medal of Philanthropy
Texas Business Hall of Fame 2019 Inductee
UNCF's President's Award
Forbes' 100 Greatest Living Business Minds
Congressional Black Caucus Foundation Chair's Award
Smith's goals of lifting up the human spirit  within often underserved and underrepresented communities also influences work he does with organizations that promote career development, educational opportunities and financial equity. These programs include the Eagle Academies in New York, the Denver Public Schools' Robert F. Smith STEAM Academy and the Sphinx Organization. He has also put forth notable plans for corporations to support underserved communities, including The 2% Solution, which was honored by the Forbes 2020 Diversity & Inclusion Awards and his work in 2020 to ensure that government Paycheck Protection Program (PPP) loans reached communities where historic banking inequity is common.