Hampton University Convocation Center

The HU Convocation Center is one of the crowning achievements of Hampton University and is a prominent part of the University's landscape. Hampton University and the entire Hampton Roads community take great pride in the facilities design, acoustics, amenities and staff. From meetings and events to concerts and conventions, the HU Convocation Center's professional staff stands ready to help you make your next major event, concert or convention a tremendous success.
Hampton University is centrally located on the gorgeous Hampton waterfront, between Virginia's Atlantic coast and historic Colonial Williamsburg. It is less than 150 miles from Washington, D.C. The excellent interstate highway system means Hampton University's Convocation Center is fewer than 30 miles from Norfolk International Airport and about one hour from Richmond International Airport.
If you're planning an event and are interested in renting the Convocation Center, please contact us.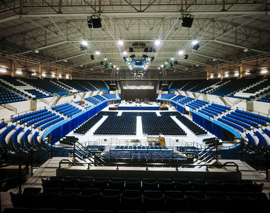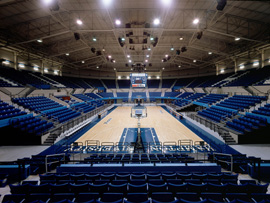 Convocation Center Amenities and Technical Information
Concert capacity – 8,200
Basketball capacity – 7,200
Convention capacity – 8,200
Stage size 52 feet by 40 feet
Pro King basketball floor: court markings for collegiate and professional play
Two meeting rooms – Green Room holds 87 people, 45 seats; Blue Room holds 69 people, 36 seats
Load ramp and mechanical loading dock – 8 feet
IQ Crown professional computerized audio mixing console – Yamaha PM 1200, 32 channel
Stagehands provided by Hampton roads Stage and Rigging
14,000 square feet of space on arena floor
2,000 parking spaces Handicapped accessible telephones, restrooms, water fountains, elevator
Public telephones – three at each four sides
Two concession stands
Press room with phone jacks
Extension runway – extra 10 modular pieces available, four feet by four feet each
Monday – Friday from 10:00am-5:00pm
All major credit cards accepted
Telephone: 757.728.6832
For Ticket Information, call (757) 728-6832
Refer to appropriate schedules for all sporting events. For more information, please call 757.728.000
Telephone:
757.728.6800
Fax:
757.728.6905
700 Emancipation Drive Hampton, Virginia 23668