Hampton University James T. George School of Business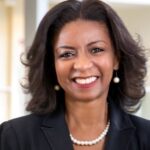 Welcome to the School of Business!
The James T. George School of Business is committed to the promotion of learning, the development of character, the creation of knowledge, and service to society. The School of Business endeavors to prepare students for positions of leadership and ownership in a global society marked by change and complexity. Our experience provides students an exceptional holistic business education that prepares them for success in any business environment. Faculty members are dedicated to preparing students to become industry ready professionals with impeccable character and a strong work ethic.  Students expect to be challenged and look forward to the reward. They are trained and expected to manage both their academic success and their career development from the very beginning of their journey at Hampton. Starting freshmen year, students participate in case competitions, network with corporate leaders, and attend corporate leadership conferences. Our students prepare very early to ensure they secure a meaningful internship, which is required for graduation. Study abroad opportunities are planned individually and collectively. 
Firms from numerous industries recruit our students.  It is widely known that we expect to develop relationships with firms as opposed to simply providing resumes for recruitment.  Many firms have found success in "getting to know" Hampton by introducing their brands "early and often" with business students and faculty.  Consistent corporate engagement fuels the development of transferrable industry skills such as business communication, interpersonal skills, collaboration, and overall professionalism. Each semester on a weekly basis, 10+ firms from a variety of industries engage in seven hours of student interaction during the firms "Corporate Day" in our Leadership Application Program.
Students can expect to be challenged beyond the classroom and anticipate having "options and not issues" upon graduation!