Homecoming Coronation Form is Now Open!
Buy Your Homecoming Tickets Now!!
Don't wait in line! Have your digital tickets sent to your cell or email!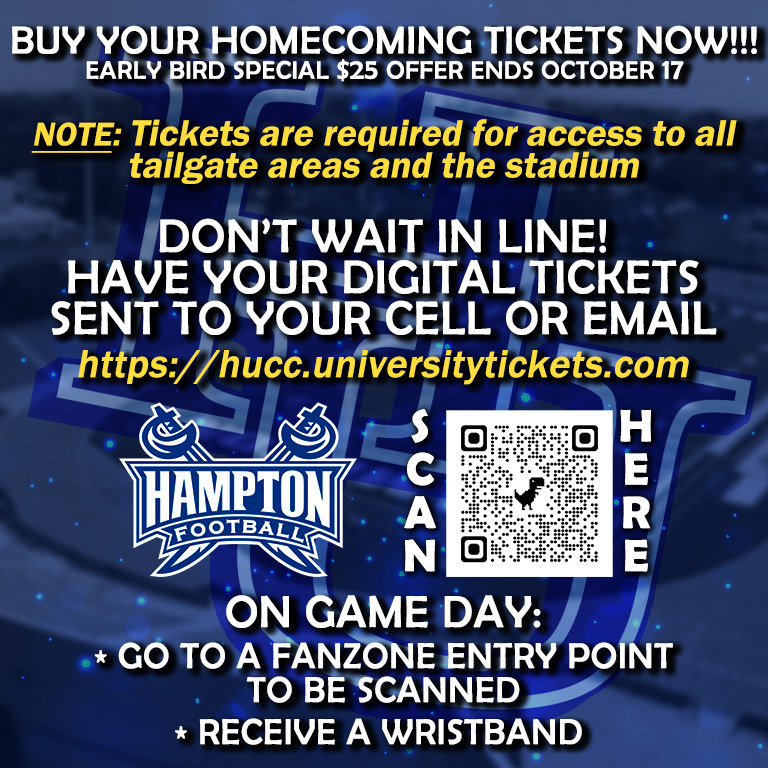 To help alleviate some of the traffic congestion that comes with Homecoming, we have secured two off campus shuttle service locations. We HIGHLY RECOMMEND AN EARLY ARRIVAL. Shuttles will run from 10:30a.m. until 7:30p.m. Saturday, October 22, 2022. Upon reaching campus, the shuttle service will drop off passengers in the Hampton Harbor Shopping Center. This will be the same location to board the shuttle when ready to depart campus. Golf carts will be available for anyone needing assistance getting from the shuttle drop off location in the Harbor Shopping Center to Armstrong Stadium/ Student Center and back. Please be mindful of the shuttle times and don't wait until the last shuttle. Anyone that remains on campus past 7:30 p.m. will need to utilize a ride share app (Uber/Lyft) or taxi to return to their vehicle. One additional option to minimize time stuck in traffic would be utilizing a ride share app to campus with the destination set to the Harbor Shopping Center. -Hampton Harbor Shops, 1042 Settlers Landing Rd, Hampton, VA 23669
Homecoming Parade Information
Be a part of Hampton University's largest and most exciting homecoming parade ever! 
Add Your Tooltip Text Here