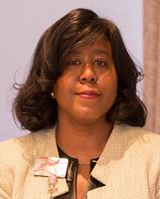 Associate Professor and Chairperson
Location: Biomedical Research Building II – Room 206
Phone: 757-728-6579
E-mail: marilyn.saulsbury@hamptonu.edu
Expertise: Pharmacology
Dr. Saulsbury has approximately twenty-five (25) years of higher education experience as well as thirty years (30) years' work experience as a community and hospital pharmacist.   During Dr. Saulsbury's tenure at Hampton University, she has held appointments as Assistant and Associate Professor (tenured) within the Department of Pharmaceutical Sciences at Hampton University, School of Pharmacy.  Furthermore, Dr. Saulsbury has held adjunct faculty appointments in the School of Nursing at Old Dominium University and at the South University (Virginia Beach Program) Nursing Practice program. As one of the first hires within the Hampton University School of Pharmacy, Dr. Saulsbury has played an integral role in the development of the original application for accreditation as well as assisted in the development of several pharmacy courses (i.e. Applied Anatomy and Physiology Lecture/Laboratory and Drug and Disease State Management modules). Moreover, she has taught or presently teaches several content areas within the discipline of Health and Basic Medical Sciences such as Pharmacology, Physical Therapy Pharmacology, Pathophysiology, Physiology, Health Disparities and Nursing Pharmacotherapy.    
During the initiation of the Hampton University School of Pharmacy (HUSOP) curriculum, underneath the mentoring of Dr. Arcelia Johnson-Fannin, Dr. Saulsbury played an active role in university governance and service. She served on both university and school-specific accreditation committees such as Southern Association of Colleges and Schools Commission on Colleges (SACS) and the Accreditation Council for Pharmacy Education (ACPE).  Moreover, during her tenure at Hampton University, Dr. Saulsbury served as the Faculty Trustee of the Hampton University Board of Trustees, representative to the Committee on Admissions, a member of the Program Review Committee and a member of the 2018 SACS Reaffirmation Committee on Core Requirements as well as the Chair of the Committee on Faculty Research.  As chair of the Committee on Faculty Research, Dr. Saulsbury was responsible for submitting calls for proposals and for assigning proposals to reviewers for consideration. She was also responsible for awarding pilot study grants to HU faculty members as well as monitoring progress of faculty research projects.    
Within the HUSOP Division, Dr. Saulsbury has served on the Curriculum, Tenure and Promotion, Professional Conduct and Research committees.  Dr. Saulsbury has extensive experience working with student organizations. She was the Co-advisor of the Alpha Kappa Mu Honor Society and served as faculty advisor of the HUSOP Pre-Pharmacy Club.  As the Pre-Pharmacy Club faculty advisor, she  assisted the student club in holding career awareness seminars and coordinated career networking events with federal, hospital and community pharmacy companies.  In addition, Currently, Dr. Saulsbury serves as the Faculty Graduate Advisor for the Hampton University undergraduate chapter of Alpha Kappa Alpha Sorority, Incorporated (Gamma Theta Chapter). As the Gamma Theta Chapter Faculty Graduate Advisor, she has been responsible for ensuring that approximately one-hundred (100+) members (from differing on-campus majors) of the sorority received appropriate academic mentorship and actively participated in community and university service projects.  In addition, she coordinates travel of undergraduate sorority members to regional and international conferences.   Consequently, through her role as the Faculty Graduate Advisor, she has worked intimately with colleagues of the Hampton University Office of Registrar and the Office of Student Affairs.  
Along with an active lecture schedule and community service at Hampton University, Dr. Saulsbury is  an active  grant-writer and biomedical researcher. To date, she has served as the PI and/ or Co-PI of four (4) investigator-initiated awards from NIH (including MBRS-SCORE, MIDARP, NCI-P20 grants) and the CDC-ATSDR totaling approximately five (5) million dollars.   
With regards to her experience as a pharmacist, Dr. Saulsbury is a licensed practicing pharmacist of thirty years (30) years and has served in numerous roles which include Pharmacy Manager at Phar-Mor, Inc. (defunct), a hospital pharmacist, a compounding pharmacist and a community pharmacist.  She keeps abreast of contemporary protocols and developments within her profession by maintaining updated continuing education certifications and membership within the Virginia Pharmacist Association (VPhA) and the American Pharmacists Association (APhA). 
† includes students as co-authors
1. Heyliger, S.O., Soliman, K.F.A., Saulsbury, M.D., Reams, R.R. (2022) Prognostic Relevance of ZNF844 and Chr 19p13.2 KRAB-Zinc Proteins in Clear Cell Renal Carcinoma. Cancer Genomics & Proteomics, 19: 305-327
2. Heyliger, S.O., Soliman, K.F.A., Saulsbury, M.D., Reams, R.R. (2021) The Identification of Zinc Finger Protein 433 as a Prognostic Biomarker for Clear-Cell Renal Cell Carcinoma. Biomolecules. Aug 12;11(8):1193. https://doi.org/10.3390/biom11081193
3. Li, F., Snow-Davis, C., Du, C., Bondarev, M.L., Saulsbury, M.D. Heyliger, S.,(2016) Preparation and Characterization of Lipophilic Doxorubicin Pro-drug. Journal of Visualized Experiments Aug 2;(114) †.
4. Weldon, D.J., Saulsbury, M.D., Goh, J., Rowland, L., Campbell, P., Robinson, L., Christian, J.,. Miller, C.C., Amis, L., Taylor, N., Davis Jr., W., Evans, S.L., Brantley, E., "One-pot synthesis of cinnamylideneacetophenones and their in vitro cytotoxicity in breast cancer cells." Bioorganic & Medicinal Chemistry Letters Volume 24, Issue 15. 1 August 2014, Pages 3381-3384
5. Saulsbury, M.D., Brown, U.J., Heyliger, S.O., Beale, R.B. (2011) Effect of Dispositional Traits on Pharmacy Students' Attitudes Toward Cheating. Am. J. Pharm. Educ. 75 (4) Article 69.
6. Saulsbury, M.D., Heyliger, S.O., and Wang, K. (2009) Chlorpyrifos induces oxidative stress in oligodendrocyte progenitors. Toxicology; 259, (1-2): 1-9.
7. Saulsbury, M.D., Heyliger, S.O., Wang, K., Round D. (2008) Characterization of Chlorpyrifos-Induced Apoptosis in Placental Choriocarcinoma Cells. Toxicology; 244(2-3):98-110.
1. Saulsbury, M. (1992) The Advantages of Minorities attending Historically Black Colleges and Universities . Journal of Pharmacy Teaching. Vol 3, Issue 2, 137-140.
2. Ford, C.; Heyliger, S.O.; Howard, A. and M. Saulsbury (2000) Ritalin: Friend or Foe? Minority Health Today 1:20-25
· Heyliger, Simone O. and Saulsbury, Marilyn D. Chapter 7: Epigenetics Effects of Dioxin" in Dioxin-Environmental Fate and Health/Ecological Consequences Editors: Kurwadkar Sudarshan, Mandal Prabir, Soni Shivani. Publisher: Taylor and Frances, CRC, Press/Balkema, Laeiden, The Netherlands (2020)