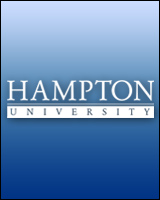 University Endowed Associate Professor
Location: Biomedical Research Building II – Room 213
Phone: 757-728-6687
E-mail: simone.heylinger@hamptonu.edu
Expertise: Pharmacology, Immunology, Neuroscience/Neurotoxicology, Cellular Biology
Dr. Heyliger is an associate professor in the School of Pharmacy at Hampton University (HU), Department of Pharmaceutical Sciences. She  received her PhD in Pharmaceutical Sciences whereby she  studied the impact of quinolinic acid on immune system function. After graduation, Dr. Heyliger received training in drug abuse research at the Baltimore Campus of the National Institute of Drug Abuse as an IRTA postdoctoral fellow. There she characterized the signal transduction pathways and the biological effects of anti-opiate peptides NPFF.  She did a second  postdoc at Penn State University, Hershey College of Medicine, whereby she  was responsible for characterizing the ferritin receptor and for elucidating its role in oligodendrocyte development. 
As an instructor  at the Hampton University, School of Pharmacy, Dr. Heyliger primarily teaches immunology, health disparities, pathophysiology, and pharmacology. She also serves as a research mentor for students interested in pursuing a research career in the field of biomedical sciences.
Dr. Heyliger has served as PI  Co-Program Director, Co-PI or Co-Investigator on several federal grants totaling over six million dollars.  These  grants including two MBRS investigator initiated (SCORE) projects, Project Export (NIMHD) and MIDARP (NIDA), CDC-ATSDR Environmental Toxicology Grant and two NCI funded P20 grants.  Dr. Heyliger's research interests center on identifying molecular biomarkers that predict carcinogenesis and response to chemo- and radio-therapeutic strategies. Other research interests include identifying the mechanisms by which pesticides may contribute to  renal and prostate carcinogenesis. 
B.S. University of the Virgin Islands
Ph.D. Florida A&M University
Virtually all children in the United States have detectable levels of the pesticide Chlorpyrifos (CPF) in their bodies. Although, CPF has been shown to be relatively safe in adult animals, newly discovered evidence suggests that juveniles (animals and humans) may be more sensitive to CPF toxicity than adults. Our research seeks to delineate the effects of prolonged exposure of the Chlorpyrifos as well as its active metabolites chlorpyrifos-oxon (CPO) and 3,5,6-trichloro-2-pyridinol (TCP) on the development and function of oligodendrocytes and astrocytes. Our research is divided into three parts. The first part entails the determination of the effects of chlorpyrifos on glial cell viability and maturation. The second part seeks to determine if chlorpiyrifos interferes with the ability of glia cell to respond to trophic signals needed to cause cellular proliferation. Finally, the third part seeks to ascertain if chronic exposure to chlorpyrifos or its metabolites alters cellular functions of glia cells, which include myelin formation and cytokine production.
The ultimate goal of this research is to:
Increase public awareness of the possible effects of prenatal exposure to commonly used organophosphate pesticides.
Identify potential risks associated with in-utero exposure to Chlorpyrifos and organochlorine and organophosphate pesticides particularly in pregnant women in the migratory communities.
Identify the mechanism of action(s) by which Chlorpyrifos and close related analogs or congeners induces toxicity in children and neonates.
Selected Peer-Reviewed Articles
† includes students as co-authors
Heyliger, S.O., Soliman, K.F.A., Saulsbury, M.D., Reams, R.R. (2022) Prognostic Relevance of ZNF844 and Chr 19p13.2 KRAB-Zinc Proteins in Clear Cell Renal Carcinoma. Cancer Genomics & Proteomics, 19: 305-327
Heyliger, S.O.,  Soliman, K.F.A., Saulsbury, M.D., Reams, R.R.  (2021) The Identification of Zinc Finger Protein 433 as a Prognostic Biomarker for Clear-Cell Renal Cell Carcinoma. Biomolecules. Aug 12;11(8):1193. https://doi.org/10.3390/biom11081193
Li, F., Snow-Davis, C., Du, C., Bondarev, M.L., Saulsbury, M.D. Heyliger, S.,(2016) Preparation and Characterization of Lipophilic Doxorubicin Pro-drug.  Journal of Visualized Experiments Aug 2;(114) †.
Saulsbury, M.D., Brown, U.J., Heyliger, S.O., Beale, R.B. (2011) Effect of Dispositional Traits on Pharmacy Students' Attitudes Toward Cheating. Am. J. Pharm. Educ. 75 (4) Article 69.
Saulsbury, M.D., Heyliger, S.O., and Wang, K. (2009) Chlorpyrifos induces oxidative stress in oligodendrocyte progenitors. Toxicology; 259, (1-2): 1-9.
Saulsbury, M.D., Heyliger, S.O., Wang, K., Round D. (

2008

) Characterization of Chlorpyrifos-Induced Apoptosis in Placental Choriocarcinoma Cells. Toxicology

; 244(2-3):98-110.

Hulet SW, Heyliger SO, Powers S, Connor JR. (2000) Oligodendrocyte progenitor cells internalize ferritin via clathrin-dependent receptor mediated endocytosis.  J Neurosci Res.1;61(1):52-60†.
Heyliger SO, Ni Q, and RB Rothman. (2000) Resolution of two [(35)S]GTP-gamma-S binding sites and their response to chronic morphine treatment: a binding surface analysis. Brain Res Bull. 51(4):357-62.
Goodman CB, Heyliger S, Emilien B, Partilla JS, Yang HY, Lee CH, Cadet JL, Rothman RB. (1999) Chronic exposure to antibodies directed against anti-opiate peptides alter delta-opioid receptor levels. Peptides. 20(12):1419-24†
Heyliger SO, Jackson C, Rice KC, Rothman RB. (1999) Opioid peptide receptor studies. 10. Nor-BNI differentially inhibits kappa receptor agonist-induced G-protein activation in the guinea pig caudate: further evidence of kappa receptor heterogeneity. Synapse. 34(4):256-65.
Heyliger SO, Mazzio EA and K.F. Soliman. (1999) The anti-inflammatory effects of quinolinic acid in the rat. Life Sci. 64(14):1177-87.
Heyliger, S.O., Goodman, C.B., Ngong, J. and KFA Soliman (1998) The analgesic effects in the rat. Pharmacol. Res. 38(4):243-250.
Heyliger, S.O., Payza, K., and R.B. Rothman (1998) The effect of FMRFamide analogs on [35S]GTP-gamma-S stimulation in squid optic lobes. Peptides 19(4):739-747.
Romero DV, Partilla JS, Zheng QX, Heyliger SO, Ni Q, Rice KC, Lai J, and R.B. Rothman.(1999)  Opioid peptide receptor studies. 12. Buprenorphine is a potent and selective mu/kappa antagonist in the [35S]-GTP-gamma-S functional binding assay. Synapse. 34(2):83-94.
Goodman, C.B.; Heyliger, S.O., Emilien, B.; Partilla, J.S.; Yang, H.-Y.T., Lee, C.-H; Cadet, J.L. and R.B. Rothman. (1998) Regulation of mu binding sites after chronic administration of antibodies directed against specific anti-opiate peptides. Peptides. 19(10):1703-9.