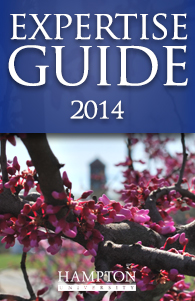 Hampton University believes it is important to return something to the community of which it is a part. The Expertise Guide provides a vehicle for sharing our resources.
Through this guide, Hampton University faculty and staff are available to speak to schools, organizations, community groups, businesses and the media. To request a speaker, choose your topic and speaker. At the right of each name is a designation that indicates which of the activities the expert has agreed to participate in: MI- media interviews or PS- free public speaking.
For public speaking requests, please fill out the form and email or fax it to the Office of University Relations at least three weeks before the event. For media interviews, please call the Office of University Relations and an interview will be arranged as soon as possible.
Office of University Relations
757-727-5253
F- 757-728-6941
publications@hamptonu.edu
Download the Expertise Guide