Hampton University has partnered with Brandeis University's Materials Research Science & Engineering Center (MRSEC) to promote diversity in material science research. A major component of the HU PREM training program is the "Path-To-Professorship" (PTP).
The Path-to-Professorship (PTP) Program is comprised of two complementary components: (1) MRSEC-based faculty to serve as mentors to aspiring materials science research faculty via the PREM Mentorship and Networking Program, and (2) a PREM Seed Project Funding for PTP Research Assistant Professor. The PTP Program's primary aim is to expand the diversity of the NSF-funded materials science research workforce and the HBCU materials science-related faculty pool.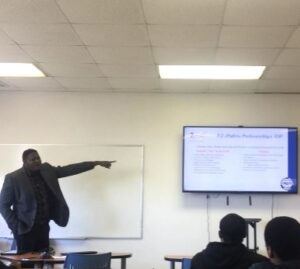 Duties and Responsibilities
The PTP Program Research Assistant Professor appointment is in the School of Engineering & Technology and supervised jointly by the PREM Project Director and members of the PREM's interdisciplinary faculty team. Successful candidates are responsible for the performance of PREM research projects under the direct supervision of Hampton University teaching faculty. The PTP Research Assistant Professors supervise a research project team consisting of students (graduate, undergraduate, and high school) and collaborators, engage in scholarly activities, and actively work toward the further growth and development of the Hampton University PREM. Each PTP Research Assistant Professor spends 6 to 12 months in-residence at the Brandeis University MRSEC in Waltham, Massachusetts, under the supervision of MRSEC Director Dr. Seth Fraden.
Qualifications
The successful applicant must have:
Earned a doctorate in biology, chemistry, computer science, engineering, environmental science, mathematics, physics, pharmaceutical science, or related field
Possess a strong record of research demonstrated in research productivity during graduate and post-doctoral training. 
Have scholarly activity appropriate for an appointment as a Research Assistant Professor in the Department of Engineering is required.
The successful candidate will have:
Demonstrated ability to effectively manage multiple priorities -research, education and outreach;
Expertise in chemical synthesis, polymer systems, computational dynamics, fluid dynamics, microfluidics, and/or microscopy;
Demonstrated ability working in interdisciplinary, inter-institutional research teams;
A strong track record in research productivity (assistant professor candidates)
Synergy with research activities taking place at Hampton University PREM and Brandeis MRSEC
The potential to leverage infrastructure and resources available within the Hampton University PREM and Brandeis MRSEC
Currently, there are no PTP Program positions available – please check back in the future.