Reminder: Make sure to check your HU Email address for official registration information.
Student Accounts Snapshot
Each student is encouraged to periodically request a printout of her or his account at the student accounts window in the Whipple Barn to check the account for accuracy. The student accounts window is open from 8:30am to 4pm Monday through Friday. You can also check your account online using your myCampus account
Student Group Insurance – Claim Procedures
(The Student is responsible for initiation of claims for insurance benefits.)
In case of illness, report to Student Health Services for treatment or referral to another doctor or hospital. If away from campus, secure treatment from nearest qualified doctor or hospital. Notify Student Health Services as soon as possible.
Completed claim forms, including medical bills, must be submitted to the company within 90 days from the date of accident or illness. Student Health Services will assist with filing claims.
Perkins Loan
Perkins Loan recipients should sign the loan upon completing registration or as soon as possible thereafter, to avoid cancellation of the loan. Each Perkins Loan recipient must have an Exit Interview upon graduating or withdrawing from the University.
Student Workers Payroll
Student workers are paid the 15th of each month. Paychecks will be released the Friday before if the 15th falls on a weekend. Before receiving her or his first paycheck, a student must complete a W-4 form in the Payroll Office and an I-9 form in the Office of Financial Aid.
Banking Services
The University has joined with Bank of America to provide banking services for our students. The Banking Center is located in the Collegiate Bookstore in Hampton Harbor. The hours of operation are, Monday – Friday 10am – 2pm. An ATM is available 24 hours a day.
Duplicate Student Identification / Meal Card
To replace a lost identification/meal card:
Report the loss to the appropriate dean and request a verification slip;
Pay $10 for the new identification card and/or a $20 fee to activate the new meal card at the cashier's window in the Whipple Barn. These fees must be paid in cash before a duplicate can be issued. The cashier's window is open from 8:30am to 4:00pm Monday through Friday;
Report to the University Police Department located in the Whipple Barn (rear) to reactivate the meal ticket and/or identification.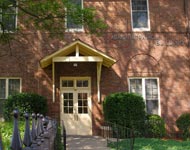 Administration Building
Telephone:
757-727-5221
Hours of Operation:
Mon. – Fri., 8am – 5pm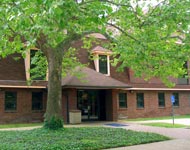 Whipple Barn
Hours of Operation:
Mon. – Fri., 8:30am – 4pm
Telephone:
1.800.624.3327 / 757.727.5661