Executive Vice President and Provost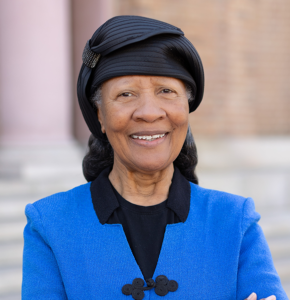 Dr. JoAnn W. Haysbert is Executive Vice President and Provost with over 35 years of stellar service as a professional educator. She holds the BA degree in Psychology from Johnson C. Smith University, the MEd degree in Educational Administration and the doctoral degree in Educational Administration with a teaching specialization in Psychology from Auburn University. She was also selected to participate in the Harvard University Graduate School of Education, Institute for Educational Management.
During her 34-year tenure at Hampton, she has served in several key positions, including acting president, provost, assistant provost, professor and coordinator of graduate programs in education, dean of freshman studies, assistant vice president for academic affairs, director of summer sessions, and director of the assessment and learning support center. She has also held positions at Virginia State University, Auburn University and Alexander City State Junior College.
She returned to Hampton after successful seven-year tenure at Langston University as its fifteenth and first female president. While there, she set into motion an aggressive agenda that expanded and strengthened the academic programs, galvanized the faculty, invigorated active participation among alumni, broadened the external donor base, increased financial support, improved the physical plant, embraced a broader commitment to shared governance, created a safer, access-controlled campus, and placed the university in the best fiscal standing in more than two decades by eliminating a multi-million-dollar operating deficit.
Dr. Haysbert is active in numerous local, state and national organizations and served on professional boards including: National Campus Compact, Board of Trustees and Nominating Committee of The College Board; and the boards of directors for the State Chamber and Leadership Oklahoma. She was also a member of the American Council of Education's Commission on Women in Higher Education Board, Leadership Oklahoma -Class XX, and the advisory boards of the Greenwood Cultural Center in Tulsa, Black Liberated Arts Center, Inc. in Oklahoma City, the Tulsa Metro Urban League and Job Corps (Guthrie). Currently, she is a member of the Hampton City Schools Advisory Board, National Institute of Aerospace Board of Directors, and the Southern Association of Colleges and Schools Commission on Colleges Board of Trustees.
Throughout her professional career, she became a successful grant writer and an astute fundraiser directly involved in securing millions of dollars in public and private funds. She also played an integral role in the team approach to fundraising, and as a result, has been instrumental in securing funds for new programs, scholarships and endowments.
Her awards and accolades are numerous. In 2011, she received the "Ladies in the News" award given by the Oklahoma Hospitality Club. In 2009 and 2011, she was feted by the state of Oklahoma as one of its "Fifty Outstanding Women;" is a past recipient of the Drum Major for Justice Award given by the SCLC/Women's Organizational Movement for Equality Now, Inc. in Atlanta, Georgia, and was bestowed the Interfaith Dialog "Outstanding Education Award" in Oklahoma City. In 2010, she was honored by her hometown of Kingstree, South Carolina, with welcome-to-the-city signs in her name and in 2012 inducted into the Williamsburg County School District Hall of Fame.
She is the mother of five children: Andre, a Hampton University graduate, a public school teacher in Maryland and doctoral student; Nineveh, a Hampton University and Langston University graduate; Nazareth, a practicing attorney in California; Jordan, a graduate of Hampton University; and Samaria, also a Hampton University graduate.