Associate Vice President for Institutional Effectiveness and Strategic Planning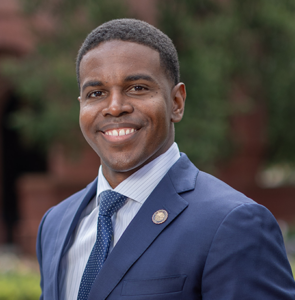 Hampton University President Darrell K. Williams announced the appointment of Phillip D. Jones to the position of Vice President for Institutional Effectiveness and Strategic Planning, where he will lead the execution of the college's strategic plan and support institutional growth and efficiency goals. In this new role, Jones will coordinate both the long-term and short-term initiatives across academic and administrative disciplines and help implement best practices to enhance the experience of students, faculty, and staff.
Jones is currently serving as the 27th Mayor of Newport News, Virginia, where he is working to improve education, invest in public safety, and modernize City Hall. He brings a well-established record of public-private sector experience.  As a Marine Corps infantry officer, he led his Marines to support peacekeeping and security cooperation missions on multiple continents. As a management consultant with a leading global firm, he advised Fortune 500 companies, municipalities, and nonprofits on strategy, marketing, organization, and operations.
In the wake of 9/11, Jones accepted a nomination to the United States Naval Academy, where he graduated with merit with a B.S. in History. He earned an M.S. in Public Policy from the Harvard Kennedy School; and the MBA from the Harvard Business School where he served as a Tillman Scholar and Co-President of the Veterans Club.
"We are delighted to welcome Phillip Jones to the Hampton Family," said President Darrell K. Williams. "Today's organizational announcement is another building block in our transformational journey. We are moving quickly to position the institution for faster growth and responsiveness. Phillip is a highly capable strategic thinker, and I look forward to using his unique set of skills towards delivering the #1 student experience in America."
Jones, who is a Life Member of Omega Psi Phi Fraternity, Inc.; serves on the board of trustees for the Veterans Service Foundation; board member of Ironbound Boxing; member of Leadership Now Project; and member of 100 Black Men of Virginia Peninsula.
"It is an honor to have the opportunity to join the President's senior leadership team," said Jones. "I look forward to helping the institution expand its influence and impact in the Hampton Roads area and across the global landscape."