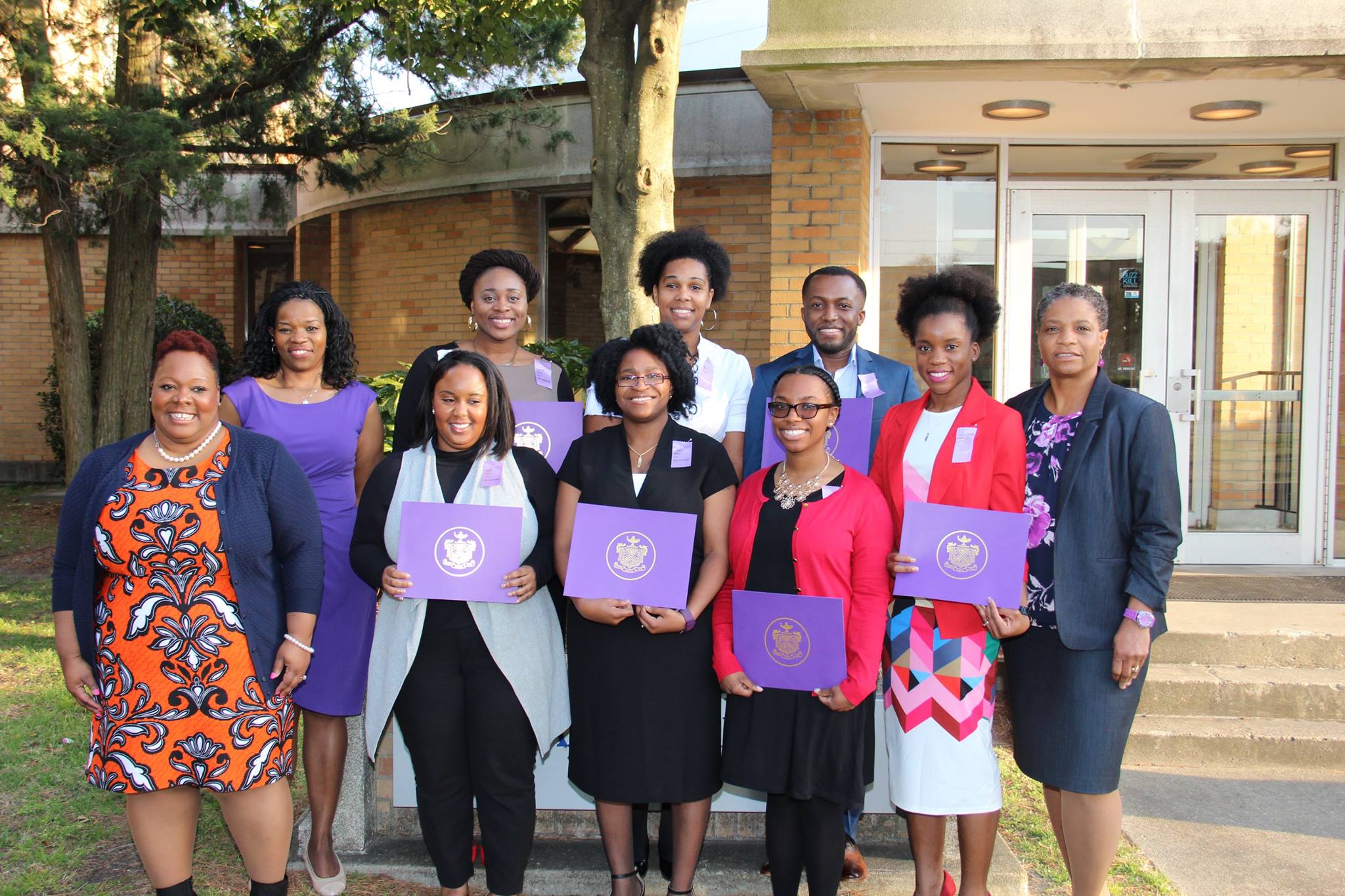 The School approved the idea of establishing a Hampton University Nursing Alumni Hall of Fame on October 26, 1984. The purpose was to formally recognize distinguished alumni who have made significant contributions to the nursing discipline in the areas of practice, research, or education. The first individuals were inducted in 1987. A framed and matted photo of this distinguished group of alumni is placed on a wall plaque and displayed at the Hampton University School of Nursing.
Inducted
Name
Class
Area of Contribution
2021
Joan T. Arrington-Craigwell

1960
Practice, Education & Service. As a CPT in the United States Air Force (1961-1968) she served as a Flight Nurse. This included serving as a nurse in the Republic of Vietnam and earning the Bronze Star Medal for her work in the triage unit of a casualty station. She has contributed to the improvement of quality patient care through her work as team leader of the Veterans Outreach Center in San Diego with homeless veterans. Along with two colleagues, under the auspices of the Vietnam Veterans of San Diego, orchestrated "stand Down," a comprehensive three-day service model which provides physical and psychological sessions between the community and homeless veterans.
As an educator she has served as Interim Associate Dean of Nursing & Allied Health. Also as lead instructor for psychiatric nursing & preceptor for graduate students while promoting professional standards for students in RN programs.
Awards:
• Bronze star- mentioned earlier.
• Veterans Commendation medal for Community Service
• Outstanding professional & Community Contributions Award • Congressional Distinguished Service Award for Community & veteran Center Involvement
• Member of sigma Theta Tau International Honor Society of Nursing
2017
Sylvia Trent- Adams

1987
Public Health Practice, leadership & Service. Dr. Trent-Adams, a member of the Commissioned Corps of the United states Public Health services since 1992. During this time she advanced to the rank of Rear Admiral (RADM) and served as Deputy surgeon General and Acting surgeon General. She held various positions in Health & Human Services, working to improve access to care for poor and underserved communities. As a clinician and administrator, she has had a direct impact on building systems of care to improve public health for marginalized populations domestically & internationally. Served as Chair of the Federal Public Health Nurse leadership council and the Federal Nursing service Council. She is a Fellow in the American Academy of Nursing (2014).

2014
Lois Price Spratlen

1954
Community Mental Health. A teacher, author and scholar. Dr. Spratlen was a University of Washington professor of Psychosocial nursing for 30 years. The first nurse & woman Community Mental Health. A teacher, author and scholar. Dr. Spratlen was a University of Washington professor of Psychosocial nursing for 30 years. The first nurse & woman to serve as University of Washington Ombudsman and Ombudman for sexual harassment for more than 20yrs. She is a University of Washington Hall of fame inductee. (Dr. Spratlen died in 2013.) Family established the Lois Price Spratlen Endowed Chair in Community and Mental health Nursing in her honor at HUSON, 2014.
1994
Jacqueline Brunson Shillings

1955
Education & Research. President, HU National Nurses Alumni Association.
1994
Dorothy Lewis Powell

1968
Education, Research & Practice. Developed an environmental health curriculum focused on the Mississippi Delta for use in schools of nursing; and a unique and highly successful workforce development program for Nursing Careers for Homeless People. Since the late 1980s she has been engaged in international work centered on education in schools of nursing and health care systems in Swaziland, Malawi, Lesotho and South Africa. Dr. Powell is currently Professor Emerita at Duke University.
1994 (3)
Shirley Hall

1959
Education & Research. Taught Pediatric Nursing and worked with the public school nurses program. (Mrs. Hall died January 24, 2021)
1993
Antoinette Davis Langford

1964
Education & Research. Education & Research.
Taught, advised and mentored over 1,000 students. Developed a series of video tapes entitled "Computations of Drug Dosages" as well as a learning module entitled "Well-Child Health maintenance." Mrs. Langford developed a computerized data base used as part of her research on student variables and strategies for success in undergraduate nursing programs. (Recently retired, but still counted on by the HUSON)

1992
Defloris (Dee) Baldwin

1974
Education & Research. Dr. Baldwin was Associate Dean & Director of the School of Nursing, University of North Carolina. (Retiring 2017)
1991
Emma Felder

1951
Education & Practice. A pioneer in Nursing. In 1986, Dr. Felder became the founder and Director of the Center for Cultural Diversity and Health which was created "to teach students and health professionals how to develop skills in culturally competent health care, and also to guide research and influence health policy related to disparities in care between minorities and the general population." A founding member of the Milwaukee chapter of the Black Nurses Association. Dr. Felder died in 2008.
1990
Frances Carter Barge

1956
Education.
1989
Sallie Tucker Allen

1959
Education & Research. The "Gem of an idea" for an organization of Black nursing faculty took root when Dr. Tucker-Allen was a doctoral student at Northwestern University. In 1987, the Association of Black Nursing Faculty, Inc. (ABNF) became an official organization. She served as ABNF president 1987-1992. Dr. Tucker-Allen is also founding Editor of The ABNF Journal which is the official Journal of the Association of Black Nursing Faculty published by Tucker Publications, Inc. (est. 1987)
1988
Loretta Elaine Sweet-Jemmott

1978
Education & Research. Dr. Sweet-Jemmott is one of the nation's foremost psychiatric health nurse behavioral scientists in the field of HIV risk reduction research. She is a globally recognized translational nurse researcher. Dr. Sweet-Jemmott received the U.S. Congressional Merit Award and membership in the Institute of Medicine. Director of the Center for Health Disparities Research at UPENN SON. (MS HAMPTON, 1978)
1987
Costella Moore Franklin

1953
Education.
1987 (2)
Juanita Wilson Fleming

1957
Education & Research./ Dr. Fleming served many years in academia.