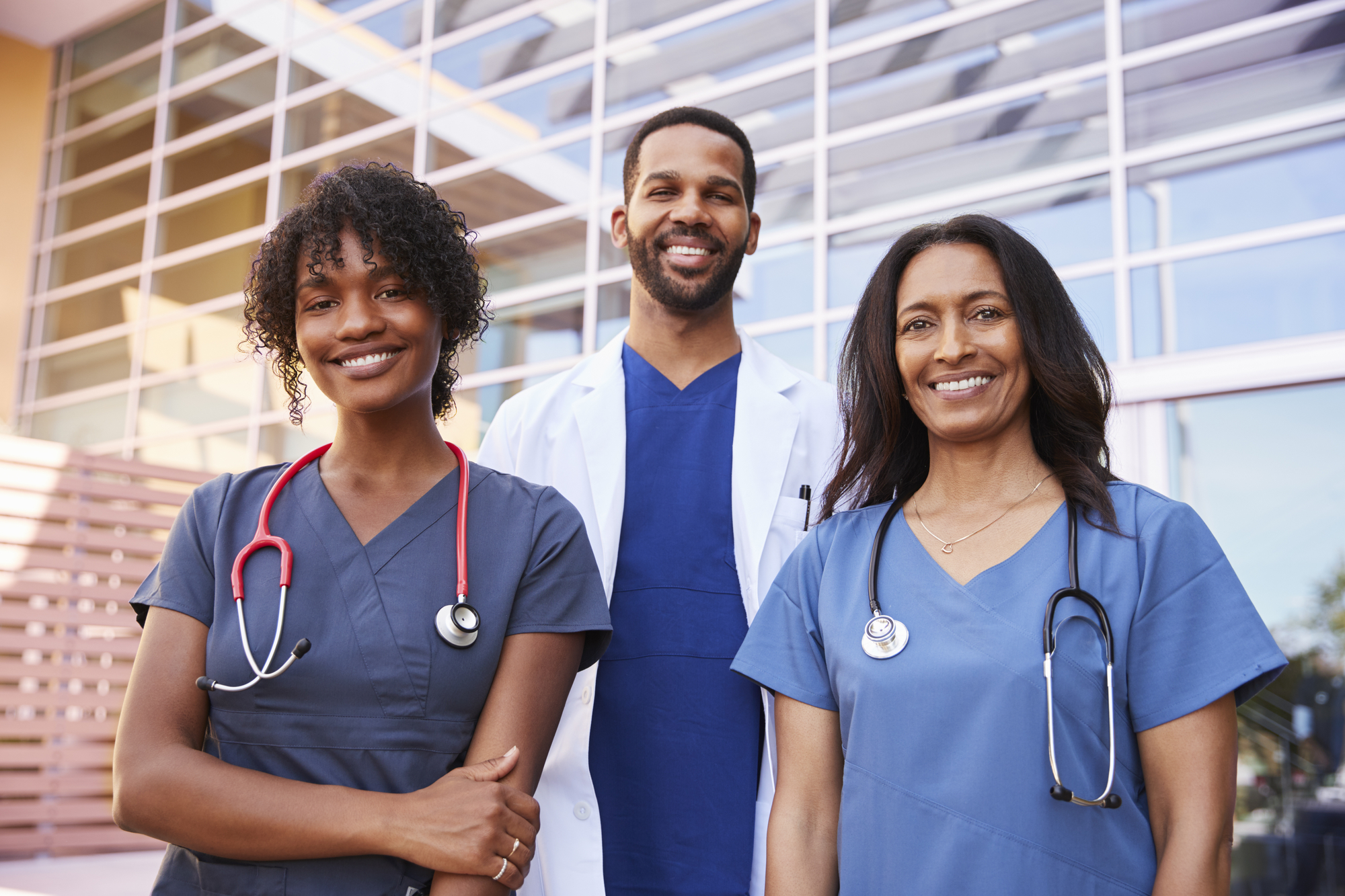 Students seeking admission to the Master of Science degree in nursing program are subject to the rules and regulations applied by the Graduate College.  Admission to graduate study in nursing at Hampton University is open to all qualified applicants who meet the requirements as stated in the University Catalog.  Potential students are encouraged to consult the University Catalog prior to applying for admission.  In addition, admission to the Master's program requires:
A Bachelor of Science degree from an accredited program in nursing.
An undergraduate Grade Point Average (GPA) of 2.7 overall and 2.7 on a 4.0 scale.
Acceptable scores on the Graduate Record Examination (GRE), with a verbal score of at least 450 or an Analytical Writing Assessment score of at least 4.0.
Completed application to the Graduate College.
Two (2) letters of recommendation from professionals familiar with the applicant's professional qualifications.  Letters should be on professional letterhead and address the nature of the professional's knowledge of the applicant.  Letters should come from professionals, such as, the applicant's most recent employer, a previous nursing professor, supervisors and/or nurse managers. The professional providing the reference must also complete Parts II & III of the recommendation.  The documents necessary for the references are available from the Graduate Programs section of the School of Nursing's web site at www.hamptonu.edu .
A personal statement that delineates the applicant's: 1) rationale for selecting Hampton University School of Nursing's master's program, 2) description of goals and aspirations, 3) how the applicant expects to benefit from master's level study, and,
4) previous research and scholarship and current research interest.  The essay should be 3 to 5 typed pages, double spaced, 12-point font and either Times New Roman or Arial font.
Graduate nursing students participating in clinical experiences must hold and maintain a valid license to practice as a registered nurse in the state or jurisdiction in which they will participate in clinical experiences.
An undergraduate course in statistics and an undergraduate course in physical assessment.
Clinical experience beyond the baccalaureate degree highly recommended prior to clinical courses.
A current resume that includes sections on Education, Research and Scholarly Activity, and Service.
A personal interview (at the student's expense) with a faculty member who teaches in the Master of Science degree program in the School of Nursing.
Approval of the Graduate Admissions, Scholarships and Standards Committee of the School of Nursing.
gradcoll.hamptonu.edu/page/Admission-Requirements
The entire application package including the application form, transcripts, GRE scores, and letters of recommendation must be sent to:
Graduate College
Hampton University,
Hampton, Virginia  23668
Provisional Admission
Applicants not meeting requirements for regular admission, in keeping with Hampton University's statement of mission, may be admitted with provisional status.  An applicant who holds a bachelors degree, but does not fully meet the above requirements for regular admission, may be admitted on a provisional basis.  Students so admitted are held responsible for removing the deficiencies during the first semester in residence to attain regular status.
Re-Entering Student Applicants
gradcoll.hamptonu.edu/page/Readmission-to-the-Graduate-College-Application
Failure to enroll in any semester after initial enrollment constitutes a withdrawal from the program of study and requires submitting an application for re-admission to the Graduate College. The application for re-admission must be filed with the Dean of the Graduate College prior to the term of planned re-entry. Once you are re-admitted you will follow the University Academic Catalog requirements in place at the time you are re-admitted. All students applying for re-entry to the Graduate College must abide by the following:
Submit an application for readmission.
Provide copies of transcripts of all academic work at other institutions.
Submit a new personal statement and letters of recommendation if the leave is one Academic year, or greater.
Students seeking admission to the Master of Science in nursing are subject to rules and regulations applied by the Graduate College. Admission to graduate study at Hampton University is open to all qualified applicants who meet the requirements as stated in the Graduate Catalog. Potential students are encouraged to consult the Graduate Catalog prior to applying for admission. Graduate College Requirements
| Semester 1 (Fall) | | | |
| --- | --- | --- | --- |
| Course# | Course Title | Credits | Clinical Hrs |
| NUR 510 | Conceptual Approaches to Nursing Practice | 2 | |
| NUR 648 or MBA 600 | Financial Management for Nursing Administrators or Account Concepts | 3 | |
| NUR 678 | Family Nursing Theory and Practice | 3 | |
| NUR XXX | Elective | 3 | |
| | Semester Credit Hours | 11 | |
| Semester 2 (Spring) | | | |
| Course# | Course Title | Credits | Clinical Hrs |
| NUR 606 | Principles of Nursing Administration Clinical Specialty and Population Focus (One Course) | 6 | |
| NUR 610 | Community Mental Health/Psychiatric Nursing l, or Community Health Nursing l, or Advanced Adult Nursing l | 4 | |
| NUR 612 | Community Health Nursing l | | |
| NUR 614 | Advanced Adult Nursing l | | |
| | Semester Credit Hours | 10 | |
| Summer Semester | | | |
| Course# | Course Title | Credits | Clinical Hrs |
| STA 600 | Statistics | 3 | |
| | Semester Credit Hours | 3 | |
| Semester 3 (Fall) | | | |
| Course# | Course Title | Credits | Clinical Hrs |
| NUR 640 or MBA 648 | Human Resources Administration or Research Focus (One Course) | 3 | |
| *NUR 683 or NUR 681 | Reseaerch Methods in Nursing or Master's Thesis Research (Thesis) | 4 | |
| NUR 512 | Organizational Behavior Group and Role Theory | | |
| NUR XXX | Elective | 3 | |
| | Semester Credit Hours | 10 | |
| Semester 4 (Spring) | | | |
| Course# | Course Title | Credits | Clinical Hrs |
| NUR 607 | Advanced Nursing Administration | 5 | |
| NUR 609 | Nursing Colloquium | 3 | |
| NUR XXX | Graduate Business Elective | 3 | |
| *NUR 702 | Comprehensive Examination | 1 | |
| | Semester Credit Hours | 12 | |
| | Program Total | 45/46 | |
| Semester 1 (Fall) | | | | | | | | | | | | | | | |
| --- | --- | --- | --- | --- | --- | --- | --- | --- | --- | --- | --- | --- | --- | --- | --- |
| Course# | Course Title | Credits | Clinical Hrs | | | | | | | | | | | | |
| NUR 510 | Conceptual Approaches to Nursing Practice | 2 | | | | | | | | | | | | | |
| NUR 678 | Family Nursing: Theory and Practice | 3 | | | | | | | | | | | | | |
| STA 600 | Statistics | 3 | | | | | | | | | | | | | |
| | Semester Credit Hours | 8 | | | | | | | | | | | | | |
| Semester 2 (Spring) | | | | | | | | | | | | | | | |
| Course# | Course Title | Credits | Clinical Hrs | | | | | | | | | | | | |
| NUR 606 | Principles of Nursing Administration Researach Focus (One Course) | 6 | | | | | | | | | | | | | |
| NUR 683 or NUR 681 | Reseaerch Methods in Nursing (Comprehansive Exam), or Master's Thesis Research (Thesis) | 4 | | | | | | | | | | | | | |
| | Semester Credit Hours | 10 | | | | | | | | | | | | | |
| Semester 3 (Fall) | | | | | | | | | | | | | | | |
| Course# | Course Title | Credits | Clinical Hrs | | | | | | | | | | | | |
| NUR 512 | Organizational Behavior Group and Role Theory | 3 | | | | | | | | | | | | | |
| NUR 648 | Financial Management for Nursing Administrators | 3 | | | | | | | | | | | | | |
| NUR XXX | Elective | 3 | | | | | | | | | | | | | |
| | Semester Credit Hours | 9 | | | | | | | | | | | | | |
| Semester 4 (Spring) | | | | | | | | | | | | | | | |
| Course# | Course Title | Credits | Clinical Hrs | | | | | | | | | | | | |
| | Clinical Specialty and Populatio Focus (One Course) | | | | | | | | | | | | | | |
| NUR 610 or NUR 612 | Community Mental Health/Psychiatric Nursing l, or Community Health Nursing l, or Advanced Adult Nursing l | 4 | | | | | | | | | | | | | |
| NUR 614 | Advanced Adult Nursing l | 3 | | | | | | | | | | | | | |
| NUR XXX | Graduate Business Elective | 3 | | | | | | | | | | | | | |
| | Semester Credit Hours | 10 | | | | | | | | | | | | | |
| Semester 5 (Fall) | | | | | | | | | | | | | | | |
| Course# | Course Title | Credits | Clinical Hrs | | | | | | | | | | | | |
| NUR 607 | Advanced Nursing Administration | 5 | | | | | | | | | | | | | |
| NUR 609 | Nursing Colloquium | 3 | | | | | | | | | | | | | |
| | Semester Credit Hours | 8 | | | | | | | | | | | | | |
| | Program Total | 45 | | | | | | | | | | | | | |
The baccalaureate programs on Hampton University main campus and College of Virginia Beach has full  approval by the Virginia State Board of Nursing. 
The baccalaureate degree programs in nursing and the master's degree programs in nursing at Hampton University is accredited by the Commission on Collegiate Nursing Education, 655 K Street NW, Suite 750, Washington, DC 20001, 202-887-6791