A historically black institution, Hampton University is committed to multiculturalism. The University serves students from diverse national, cultural and economic backgrounds. From its beginnings to the present, the institution has enrolled students from five continents – North America, South America, Africa, Asia and Europe – and many countries including Gabon, Kenya, Ghana, Japan, China, Armenia, Great Britain and Russia, as well as the Hawaiian and Caribbean Islands and numerous American Indian nations. Placing its students at the center of its planning, the University provides a holistic educational environment. Learning is facilitated by a range of educational offerings, a rigorous curriculum, excellent teaching, professional experiences, multiple leadership opportunities, and an emphasis on the development of character which values integrity, respect, decency, dignity, and responsibility.
The year was 1861. The American Civil War had shortly begun and the Union Army held control of Fort Monroe in Hampton, Virginia at the mouth of the Chesapeake Bay. In May of that year, Union Major General Benjamin Butler decreed that any escaping slaves reaching Union lines would be considered "contraband of war" and would not be returned to bondage. This resulted in waves of enslaved people rushing to the fort in search of freedom. A camp to house the newly freed slaves was built several miles outside the protective walls of Fort Monroe. It was named "The Grand Contraband Camp" and functioned as the United States' first self-contained African American community.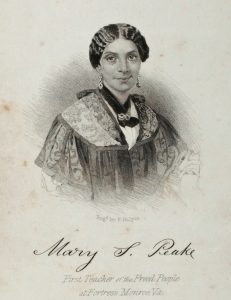 In order to provide the masses of refugees some kind of education, Mary Peake, a free Negro, was asked to teach, even though an 1831 Virginia law forbid the education of slaves, free blacks and mulattoes. She held her first class, which consisted of about twenty students, on September 17, 1861 under a simple oak tree. This tree would later be known as the Emancipation Oak and would become the site of the first Southern reading of the Emancipation Proclamation in 1863. Today, the Emancipation Oak still stands on the Hampton University campus as a lasting symbol of the promise of education for all, even in the face of adversity.
.