Doctor of Philosophy in Counselor Education and Supervision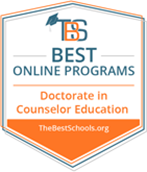 Take the next step in your career and gain the experience needed to lead within your field with the online Ph.D. in Counselor Education and Supervision. Designed for licensed counselors, this program builds on foundational counseling principles while cultivating clinical and supervisory skills. This combination provides graduates with a versatile and extensive knowledge base from which to better serve their patients and the counseling community.
Hampton University offers the accelerated 64 credit-hour Ph.D. in Counselor Education and Supervision online, providing students from across the country flexible access to the information they need to excel within this field. The degree prepares graduates with knowledge of teaching, counseling, and supervision, with concentrations in school counseling and community mental health counseling. Whether you are in a clinical, academic, or research context let your expertise facilitate effective change within your organization. Become an advocate for counselors and clients alike – apply today.
Cost Per Credit – $695
Course Length – 16 weeks
Degree Credits – 64
Degree Length – 3.5 years
Online application for admission
A Graduate Degree in a related field
GRE within the last 5 years (Can be waived if you have a Master's degree from an accredited program)[This is currently waived for all Fall 2021 Applicants]
Writing sample (may be a published refereed journal article or a paper written during the applicant's MA program)
Personal statement (Indicating self-reflection and career goals; not to exceed 1,000 words)
Licensures and credentials attained (Preferred but not required)
3 Letters of Recommendation
College/University transcripts that include a graduate level course in abnormal psychology and ethics from all Colleges/Universities attended
Resume
A copy of your State or Federal ID
Please forward all physical supplemental documentation to:
Hampton U Online
Attn: HUO Graduate Admissions
PO Box 6227
Hampton, Virginia 23668
Official Transcripts sent through a transcript network may be sent to hutranscripts@hamptonu.edu
Unofficial/Opened/Scanned transcripts will not be accepted for graduate programs
Application deadlines are for each cohort. If the cohort is full, or if the cohort does not meet the minimum student requirement, you will be considered for the next cohort.
Fall – June 15th (Starts August)
Summer – April 15th (Starts end of May)