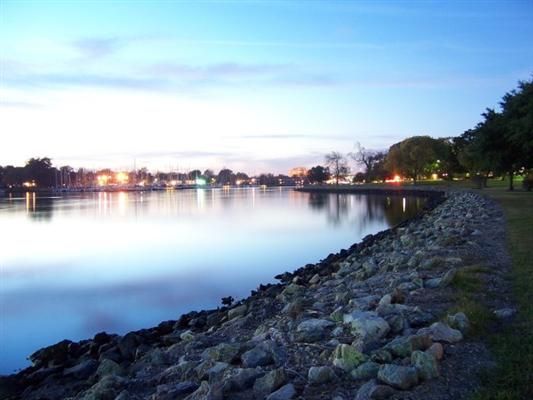 The Recommended Process for Handling Study Abroad Requests
Students interested in the Study Abroad program may find the following information helpful. The contact person for the HU Study Abroad Program is the Director of International Programs or designee whom may be reached via university campus telephone directory.
Students are required to apply for study abroad through the Director of International Programs or designee and, upon acceptance, complete a set of registration materials. The Director of International Programs or designee and the student prepare a budget, based on the information provided by the program provider. Listed below are the recommended steps for handling requests for assistance from administrators, students and/or parents.
Students who will not use Federal Student Aid received via the Free Application for Federal Student Aid (FAFSA) to assist with study abroad expenses must skip to the Business Office section below.
Students must first get permission from their respective Dean or Chair.
Students must pre-register for a minimum of 12 credit hours (if student plans to do study abroad during Fall and/or Spring semester; register for at least 6 credit hours (if student plans to do study abroad during Summer semester); any exceptions to the minimum credit hours must first be discussed by the Director International Programs and the Director of Financial Aid or designee; must meet the Federal Standards of Academic Progress Policy and, must meet any other eligibility requirement(s) –consistent with applicable financial aid polices and/or regulations. The Director of International Programs or designee will pass the Study Abroad Course Approval/CRT/pre-registration form(s) to the Office of the Registrar. This is a critical step in order for the student to receive credit as well as any approved financial aid in a timely manner.
Student must have a current financial aid record on file (i.e. valid, calculated EFC) at the time of submission of the study abroad application to the financial aid office.
If however the student/parent pays all expenses out of pocket, (which does not include any portion of financial aid) than no review is necessary by the financial aid office.
FINANCIAL AID
The Director of International Programs or the student will submit/provide the financial aid office with the application for review. Applications should be submitted at least 3-4 weeks in advance.
The student MUST meet eligibility requirements; must have remaining eligibility in the applicable financial aid programs. If the student has exhausted eligibility; they can apply for a private education loan and, assumes all responsibility for securing a creditworthy endorser –if applicable.
The Financial Aid Advisor completes the section on the application and submits to the Director of Financial Aid or designee for review and approval.
The completed application is returned to either the student and/or the Director of International Programs or designee.
Federal Aid CANNOT disburse nor can we release proceeds to the student and/or parent (if applicable) prior to the start of the academic term; in case the student or parent is the recipient of private education loan funds, we cannot guarantee that funds will be readily available prior to the student's departure for study abroad.
Generally, outside scholarships can be used to pay for study abroad expenses.
HU funds and/or scholarships cannot be used to pay for study abroad expenses; there are NO EXCEPTIONS to this rule.
BUSINESS OFFICE
The Director of International Programs or designee notifies the Business Office of which country the student plans to study abroad, so that proper currency exchange can be calculated.
Depending on the organization to whom the study abroad is going through, for example, Institute for the International Education of Students (IES Abroad), a bill is sent to the Director of International Programs or designee who will forward to the Business Office for payment.
The Business Office will determine if the student has enough funds to pay the balance or bill the student for the difference and, is responsible for the release of proceeds and/or refunds.
Checks are printed co-payable to the student and the designated institution requesting payment.
STUDY ABROAD TIPS AND SCHOLARSHIP LINKS
Scholarship Search Tips for Students Desiring to Study Abroad »
Study abroad tips: Planning far in advance is essential in order to prepare for travel, lodging, academic, financial, and other arrangements.
Fundraising: Students may find few scholarship resources to assist with study abroad expenses and will more than likely need to raise funds from trusted and reliable sources. A student who decides to undertake fundraising efforts is urged to develop a 'sales pitch' that he or she will deliver to prospective donors. This sales pitch should inform the prospective donors of the student's study abroad plans, as well as his or her plans to use his or her experience abroad to give back in a realistic and practical way. *Please keep in mind that the sales pitch must reflect true intentions, be relevant to the prospective donors, and include a plan the student can realistically fulfill abroad and after returning home.
A student interested in using social media and e-mail to assist with notifying prospective donors may decide to investigate services provided by organizations such as: GoFundMe.com.
GoFundMe.com provides its Top Fundraising Tips to improve the outcome of fundraising efforts, such as using Facebook to inform family and friends.
Non-traditional locations: When deciding where to study abroad, students should keep in mind that the country they choose can be a determining factor related to the level of scholarship funding available. For example, there are countries called non-traditional locations, like Russia, China, Turkey, other Arabic nations, and Rwanda. More funding sources are usually devoted to study abroad in non-traditional locations like these.
Critical foreign languages: Students may also keep in mind that more study abroad scholarships may be offered if they are studying a critical foreign language. For example, Arabic, Chinese, and Japanese are some critical foreign languages.
Session: Students may find that they can apply for more scholarships for study abroad programs offered during Fall and Spring.
Payment arrangements: Although, students may find few study abroad programs offering payment arrangements, the American Institute for Foreign Study (AIFS) offers Special Billing Arrangements in certain situations. *Contact the AIFS to learn more.
Scholarship links: A popular organization to reference for scholarship and other information for study abroad is the Institute of International Education (IIE).
Additional scholarship and resource links: