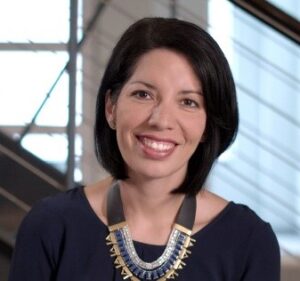 Elizabeth Herrera Smith
Executive Vice President, Head of DEI
WE Communications
Elizabeth Herrera Smith is executive vice president and head of diversity, equity and inclusion (DEI) at WE Communications. In this role, Elizabeth leads the agency's DEI efforts where she is focused on creating a strong culture of belonging, increasing diverse representation within the agency, providing educational opportunities that advance employees' understanding of diversity and inclusion, and working in partnerships with organizations focused on providing opportunities in communications for underrepresented groups. She works closely with HR, Employee Resource Groups and executive leaders across the company to embed DEI into WE. She also continues to advise clients on DEI communications.
Elizabeth has more than 20 years' experience creating successful data-driven and integrated communications campaigns for a diverse range of brands and audiences. Before her current role leading DEI, Elizabeth was a senior leader in WE's Consumer Sector, where she advised clients like McDonald's, Microsoft, VSP, Cisco and Volvo on brand reputation, DEI and executive communications. She also led the PR team responsible for Microsoft's foray into brick-and-mortar retail, helping the company expand across North America. Before joining WE, Elizabeth served as the program and communications director at the Santa Fe Community Foundation, where she was responsible for telling the foundation's story to donors, media and nonprofit organizations.
Outside work, Elizabeth can be found volunteering in and around Seattle and exploring the arts, culture and food of the Pacific Northwest.