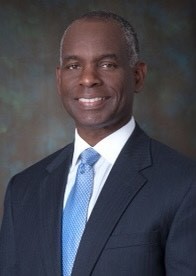 Lloyd McKinney
Sr. Manager, Global Supply Chain
Mission Systems Sector
Northrop Grumman
Lloyd McKinney is Senior Manager, Global Supply Chain, Mission Systems Sector for Northrop Grumman.
Lloyd has more than 30 years of experience within the Aerospace and Defense Industry, executing a broad set of programs and functions. He is a veteran in Domestic and International Global Supply Chain management and is a multidimensional leader with a proven track record in leading high-performance teams. Skills include special projects management, proposal planning and preparation and project planning and control.
Career highlights include Global Supply Chain Leadership for the X-47B Program where he developed acquisition strategies and proactively managed surveillance over subcontractor affordability, risk/opportunity management, quality, cost, and schedule performance. X-47B achievements include: 1) Ambassador team for receipt of the programs Robert J. Collier Trophy Award administered by the U.S. National Aeronautic Association and 2) an Aerospace Systems Presidents Award for Program Excellence.
Corporate Citizenship and Community activities include Northrop Grumman One AATG Employee Resource Group (ERG), Enterprise Co-Chair; the University of Southern California (USC); Board of Governors Emeritus; Founding Member of the USC Black Alumni Association Advisory Council; Board Chair – Wilson Global Communications based in Washington, D.C.; New Designs Charter Management Organization Board of Directors; Executive Leadership Team – Beta Psi Lambda Alumni Chapter of Alpha Phi Alpha Fraternity, Inc.; Asian Culture and Media Alliance (ACMA) Advisory Board; California State University San Marcos – Operations and Supply Chain Management Advisory Board; Additional interest include competitive billiards, theatre, music, golf, and tennis.
Lloyd is a graduate of the University of Southern California's Marshall School of Business, BS; Peter F. Drucker and Masatoshi Ito Graduate School of Management, Claremont Graduate University, MBA; and Executive and Leadership Programs at the University of California at Los Angeles Anderson Graduate School of Business and Management.