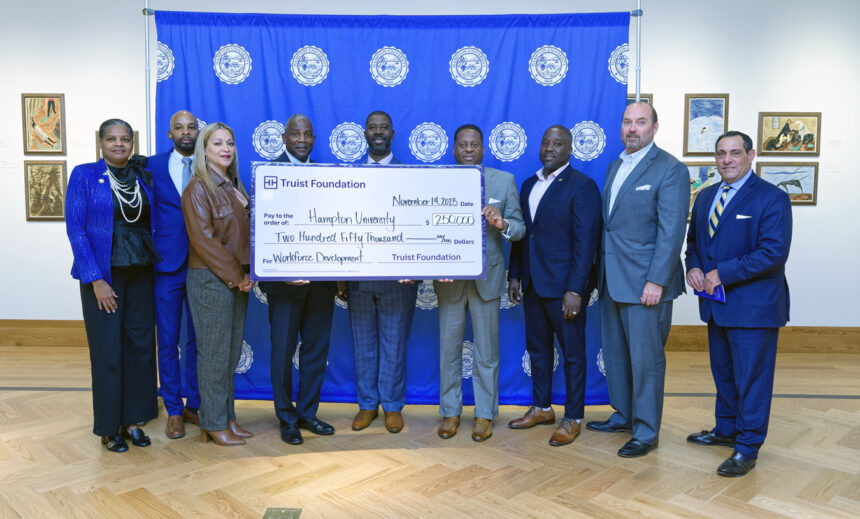 FOR IMMEDIATE RELEASE
Truist Funds Hampton University "Building Economic Mobility for Low and Moderately Skilled Individuals" Program with $250,000 Grant
HAMPTON, VA – November 14, 2023 – Truist, through its Truist Charitable Fund, a donor-advised fund administered by The Winston-Salem Foundation, presented Hampton University with a $250,000 grant to fund the university's "Building Economic Mobility for Low and Moderately Skilled Individuals, from Underserved Populations in Newport News and Hampton" program. Truist's Virginia Regional President, Thomas Ransom, presented a check on behalf of Truist to Hampton University President, Darrell K. Williams at the university's museum, alongside local Truist leadership and university leadership and administrators.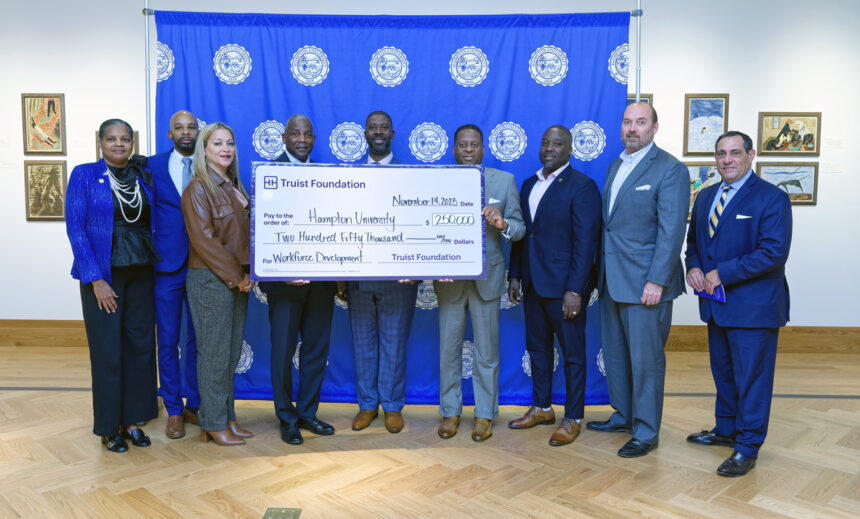 "Truist is proud to make this investment in Hampton University's workforce development program," said Thomas Ransom, Virginia Regional President at Truist. "Our purpose is to inspire and build better lives and communities and one way we bring our purpose to life is through strong community partnerships and programmatic investments, with a special focus on creating opportunities for economic mobility and independence. We look forward to seeing the success and stability of future program participants, as well as their contributions to our local economies and communities."
The "Building Economic Mobility for Low and Moderately Skilled Individuals" program provides hands-on training and certifications in construction trades for over 100 students in each year-long cohort. The program creates a skills transformation by upskilling and reskilling to generate qualified candidates for Virginia's workforce, as well as sustainable careers for program participants. The program and university also collaborate with partners from faith-based institutions, law enforcement, high schools, community-based organizations, and area municipalities to round out its workforce development programming. Truist's grant will allow Hampton University to expand the program's reach and impact.
"Hampton University is thrilled to collaborate with Truist to advance our mission of positioning students and our communities for success," said HU President Darrell K. Williams. "The Truist collaboration underscores the importance of private-sector partnerships in addressing the evolving needs of the workforce.
"This substantial investment not only strengthens the university's position as a leader in education but also reinforces Truist's commitment to making a positive difference in the communities it serves."
About Hampton University:
Founded in 1868, Hampton University has been the Standard of Excellence in higher education for over 150 years. Hampton University is recognized as one of the top historically black colleges and universities in the world, and most recently named the top private university in Virginia. Providing a broad range of technical, liberal arts and graduate degree programs, Hampton is committed to academic excellence, leadership development, innovation, community service, workforce development and building future leaders. Learn more at www.hamptonu.edu.
About the Truist Charitable Fund:
The Truist Charitable Fund ("TCF") is committed to Truist Financial Corporation's (NYSE: TFC) purpose to inspire and build better lives and communities. TCF was established as a donor-advised fund and is administered by The Winston-Salem Foundation. TCF invests in local community organizations, focusing on grants that support initiatives and programs in the areas of educational equity, leadership development, career pathways, small business, and community services. To learn more about Truist's purpose, visit https://www.truist.com/who-we-are/about-truist.
About Truist:
Truist Financial Corporation is a purpose-driven financial services company committed to inspiring and building better lives and communities. Truist has leading market share in many high-growth markets in the country and offers a wide range of products and services through our retail and small business banking, commercial banking, corporate and investment banking, insurance, wealth management, and specialized lending businesses. Headquartered in Charlotte, North Carolina, Truist is a top 10 U.S. commercial bank with total assets of $543 billion as of September 30, 2023. Truist Bank, Member FDIC. Learn more at Truist.com.
# # #
MEDIA CONTACTS:
Hannah Longmore
Truist Financial Corporation
402-613-3499
hannah.longmore@truist.com