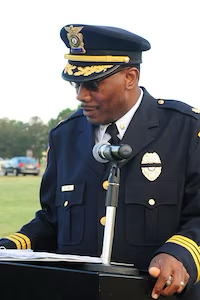 The Hampton University family mourns the death of Hampton University Police Department Deputy Chief Ronald V. Davis, who passed on Tuesday, October 3, 2023. He had a long and distinguished career in law enforcement that spanned more than 46-years. An ardent supporter of social justice, he diligently worked for the benefit of all Hampton, Virginia citizens for 40 years before retiring from the Hampton Police Division as a Major.
Following his retirement from the Hampton Police Division, Davis began a second career as Deputy Chief in the Hampton University Police Department. He was a conscientious, dedicated and exemplary member of the Hampton University family for six years.
Deputy Chief Davis was active in numerous civic organizations. He served as a representative for institutions of higher education as a Board member of the Hampton City Police Advisory Group (CPAG.) In 1995, Deputy Chief Davis received a Hampton Police Division's Meritorious Service Award.
He earned an Associate degree in Police Science from Thomas Nelson Community College, a Bachelor's degree in Criminology from St. Leo University, and a Master's degree in Public Administration from Troy State University. Deputy Chief Davis also completed Hostage Negotiation School, the Leadership Institute and the prestigious Police Executive Leadership School.
Deputy Chief Ronald V. Davis is survived by two sons. Funeral arrangements are incomplete at this time.
OFFICE OF THE PRESIDENT
HAMPTON UNIVERSITY