Hampton, VA (November 1, 2023) – The Virginia Workforce Innovation and Entrepreneurship Center (VWIEC) at Hampton University, will host the HBCU Entrepreneur's Week: "Entrepreneurship: Reimagine the Workforce," to include a balanced mix of keynote presentations, panel sessions, workshops, fireside chats, and networking sessions. The events are open to the public.
"We are excited to host this year's HBCU Entrepreneurs Week," said Dr. Glenda Evans, executive director, VWIEC. "We encourage existing entrepreneurs and aspiring entrepreneurs to engage in the Fall Conference and learn how to develop and run successful businesses."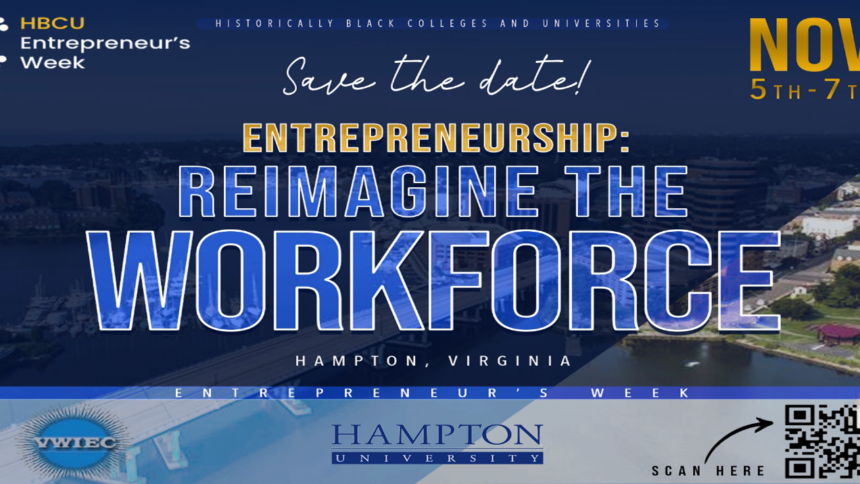 Sunday, Nov. 5th will feature a Sneaker Ball at the Historic Post Office in Hampton. "Get ready to dance the night away in your favorite sneakers and enjoy a night filled with fun, music, and networking," said Evans. "The Sneaker Ball is the perfect opportunity to connect with fellow entrepreneurs, showcase your style, and celebrate the vibrant HBCU community." Tickets for the Sneaker Ball are $25 and can be purchased on EventBrite at the following link: HBCU Entrepreneur's Week Sneaker Ball Tickets, Sun, Nov 5, 2023 at 6:00 PM | Eventbrite.
"On Sunday and Monday, we will have a conference with holistic topics that range from self-care to innovative technology," said Evans.
The fall conference workshops and panel discussions will feature topics such as: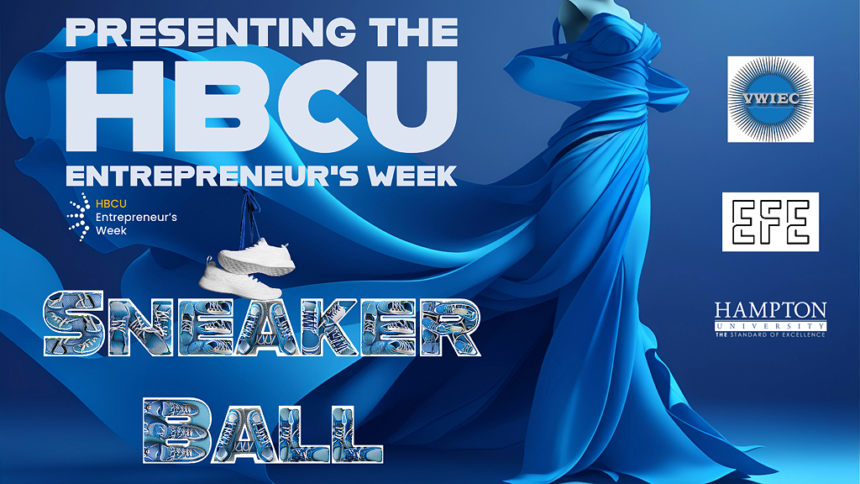 · Nov 5: Panel Discussion: "Tech Tools for Small Businesses"
· Nov 5: Workshop: "Building Agile and Resilient Teams"
· Nov 6: Panel Discussion: "Entrepreneurial Mindset: Nurturing Resilience and Creativity"
· Nov 6: Workshop: "The Art of Remote Collaboration"
HBCU Entrepreneur's Week is a biannual event hosted, live-streamed, and recorded each Spring and Fall, at one of the 104 HBCUs located within 20 U.S. States, the District of Columbia, and the U.S. Virgin Islands. To register or, for more information on HBCU Entrepreneur's Week visit hbcueweek.com/Hampton.
About HBCU Entrepreneur's Week
The mission of HBCU Entrepreneur's Week™️ is to provide unparalleled interdisciplinary entrepreneurship experiences, opportunities, resources, and support to HBCU students, alumni, faculty, and staff. We also recognize the importance of creating strong connections between HBCUs, their surrounding areas and local businesses, fostering mutually beneficial collaborations that uplift both the individuals, the HBCU ecosystem, and the economic development of these communities at large.
ABOUT HAMPTON UNIVERSITY
Founded in 1868, Hampton University has been the Standard of Excellence in higher education for over 150 years. Rich in history and tradition, Hampton University is recognized as one of the top historically black colleges and universities in the world, providing a broad range of technical, liberal arts and graduate degree programs. HU is a tightly-knit community of learners and educators representing 49 states and 35 territories nations.
For more information, contact Sarita Scott, in the HU University Relations Office, at 757.727.5253.