Virginia Association of Chapters of Alpha Phi Alpha Fraternity, Inc. Recognizes HUPTI Cancer Treatment and Research Work
Hampton, Va. (April 18, 2023) – The Hampton University Proton Therapy Institute (HUPTI) was recently honored by Alpha Phi Alpha Fraternity, Inc. with the Alpha East Community Service Award in recognition of their outstanding work in the area of cancer treatment and research during their 91st Annual Eastern Regional Convention in Hampton, Va., at the Hampton Roads Convention Center.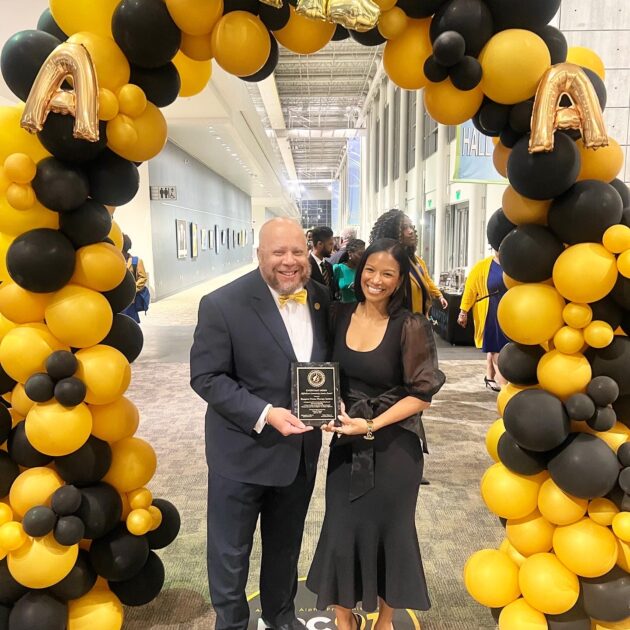 Receiving on behalf of the university are (pictured from left to right): Dr. Walter T. Tillman Jr., Hampton University Vice President, Chief of Staff and Associate Professor of Education and Tiffany Velez Rodgers, HUPTI Marketing Director.
About HUPTI
The Hampton University Proton Therapy Institute (HUPTI), established in 2010, has successfully helped fight the cancers of more than 3,500 patients from across the globe. Located in Hampton, Virginia, HUPTI is the largest standalone proton treatment center in the country, and at its inception, was the eighth center in the United States.
Proton therapy is universally accepted as a viable and effective method to treat many forms of cancer – one of the top killers in Virginia. It is a noninvasive option that precisely targets the tumor, sparing healthy tissue. At HUPTI, patients receive outpatient treatment in about 30 minutes, which means no hospital stays, allowing them to maintain their current lifestyle. The center treats several types of cancer, including breast, lung, prostate, head and neck, ocular, brain and spine, gastrointestinal and pediatric tumors. For more information, www. hamptonproton.org.
About Alpha Phi Alpha Fraternity, Inc.
Alpha Phi Alpha™, the first intercollegiate Greek-letter fraternity established for African American Men, was founded on December 4, 1906™ at Cornell University in Ithaca, New York by seven college men who recognized the need for a strong bond of brotherhood among African descendants in this country. The fraternity initially served as a study and support group for minority students who faced racial prejudice, both educationally and socially, at Cornell. The Jewel founders and early leaders of the fraternity succeeded in laying a firm foundation for Alpha Phi Alpha's principles of scholarship, fellowship, good character, and the uplifting of humanity. For more information, visit: Our History – Alpha Phi Alpha (apa1906.net)
###