FOR IMMEDIATE RELEASE
HAMPTON, VA (April 28, 2023) – Hampton University announced today that TowneBank has pledged $1 million to the university for naming rights within Armstrong Stadium and premier engagement with the Department of Athletics. The grant also outlines career services and professional development opportunities between the university and the TowneBank family of companies.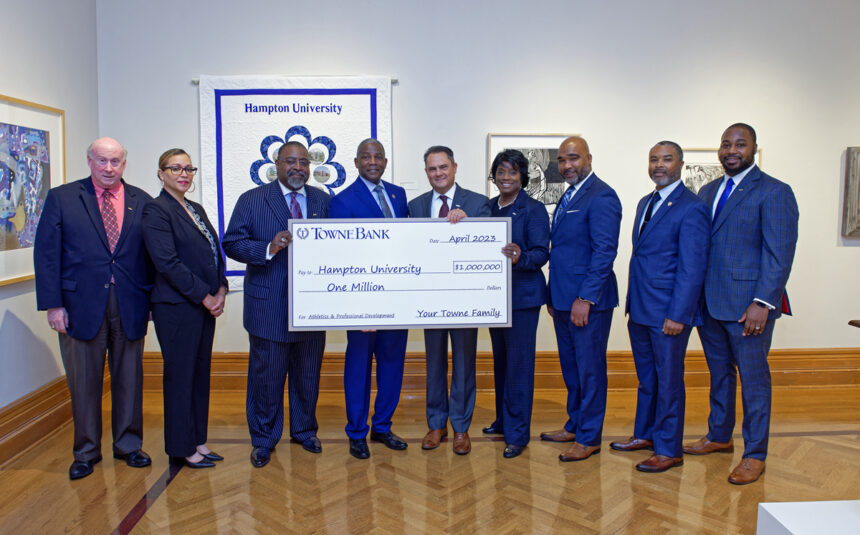 Hampton University President Darrell K. Williams said, "We are extremely excited about this news and we look very much forward to our enhanced partnership. We truly appreciate TowneBank and its continued support and advocacy of Hampton and our vision to amplify and sustain an athletic program and culture of excellence that promote national university pride and build high-achieving leaders and champions. Thank you, again, TowneBank!"
"This gift marks the largest partnership between TowneBank and an HBCU," said Alexis Swann, president of TowneBank Peninsula and Williamsburg. "We are excited about the opportunity to collaborate and find new, strategic ways to enhance our relationship with Hampton University."
As a premier institution of higher learning, Hampton University seeks to partner with corporations to bring real-world experiences to students through professional interactions, internships, and workforce opportunities. "We commend Hampton University for its dedication to preparing students for positions of leadership and service," says Tom Hasty, TowneBank SEVP and Chief Regulatory Risk Management Officer and honoree of the 2022 Hampton University Outstanding Alumnus-at-Large award. "Working alongside HU helps us to leverage the diversity that exists in our community to ensure that our workforce accurately reflects that diversity."
Evelyn Graham, Vice President of Development, said, "Words cannot express our gratitude for TowneBank's generosity. We know that they will be thrilled with the caliber of our students, the excellence of our operations, and the engagement of our faculty through this partnership."
Anthony D. Henderson, Sr., Director of Athletics, indicated that funding will be utilized in the following ways:
To fund the installation of a trophy suite within Armstrong Stadium effectively upgrading the Adult Zone from a tent to a semi-permanent structure
To support the "Pirate on the Move" travel campaign that allows Hampton Athletics to support fundraising activities during athletic events away from the university
To align with the rest of the CAA medical service staff to establish a sideline injury tent for football athletes
Mr. Henderson said, "We thank TowneBank so much for their generous contribution. Its partners like them that make our work possible. This partnership also will help showcase TowneBank and further advance the brand of this banking institution. We look forward to building on this amazing relationship." In addition to the items above, the partnership will also include branding of TowneBank on the Hampton Athletics website, signage at athletic events, and customized access to students to include interviewing, internships, and employment at the bank and its family of companies.
Contact Evelyn Graham (757-727-5356 or Evelyn.Graham@hamptonu.edu) or Joseph Walters (757-637-2122 Joseph.Walters@hamptonu.edu) for more information.
###
About Hampton University
Hampton University is a comprehensive institution of higher education, dedicated to the promotion of learning, building of character and preparation of promising students for positions of leadership and service. Its curriculum emphasis is scientific and professional with a strong liberal arts under girding. In carrying out its mission, the University requires that everything that it does be of the highest quality. A historically black institution, Hampton University is committed to multiculturalism. The University serves students from diverse national, cultural and economic backgrounds. Research and public service are integral parts of Hampton's mission. In order to enhance scholarship and discovery, the faculty is engaged in writing, research, and grantsmanship. In achieving its mission, Hampton University offers exemplary programs and opportunities which enable students, faculty and staff to grow, develop and contribute to our society in a productive and useful manner. Visit www.hamptonu.edu for more information.
About TowneBank
Founded in 1999, TowneBank is a company built on relationships, offering a full range of banking and other financial services, with a focus of serving others and enriching lives. Dedicated to a culture of caring, Towne values all employees and members by embracing their diverse talents, perspectives, and experiences. Today, TowneBank operates over 45 banking offices throughout Hampton Roads and Central Virginia, as well as Northeastern and Central North Carolina – serving as a local leader in promoting the social, cultural, and economic growth in each community. Towne offers a competitive array of business and personal banking solutions, delivered with only the highest ethical standards. Experienced local bankers providing a higher level of expertise and personal attention with local decision-making are key to the TowneBank strategy. Towne has grown its capabilities beyond banking to provide expertise through its controlled divisions and subsidiaries that include Towne Wealth Management, Towne Insurance Agency, Towne Benefits, TowneBank Mortgage, TowneBank Commercial Mortgage, Berkshire Hathaway HomeServices Towne Realty, Towne 1031 Exchange, LLC, and Towne Vacations. With total assets of $16.73 billion as of March 31, 2023, TowneBank is one of the largest banks headquartered in Virginia.