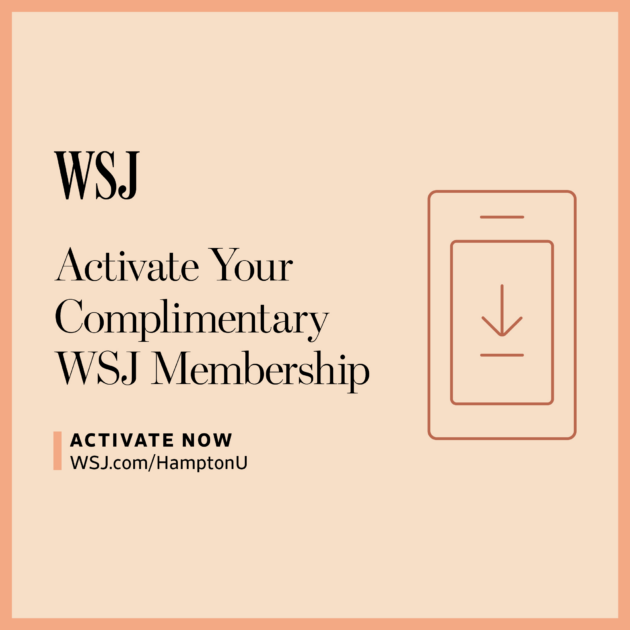 Hampton University and The Wall Street Journal have partnered to provide school-sponsored WSJ memberships to all students, faculty and staff. Through the partnership, members will have full digital access to the WSJ's award-winning journalism via WSJ.com and the app, as well as a wide variety of curated content, from podcasts and newsletters to career insights and personal finance advice.
In addition, students, faculty and staff members will receive exclusive benefits with WSJ+, a complimentary program that gives members access to virtual events and offers, such as invites to talks and a free ebook each month.
How to activate your complimentary Wall Street Journal membership:
Students, faculty and staff at Hampton University can activate their complimentary memberships by visiting WSJ.com/HamptonU. Those who currently pay for an existing WSJ membership may call 1-800-JOURNAL and mention they are switching to their school-sponsored membership.
Partial refunds will be made.
Why The Wall Street Journal is right for Hampton University students:
The Wall Street Journal offers students unrivaled coverage of business, finance, politics and world news, including focused insight into career development, technology, health, arts and culture.
About The Wall Street Journal
The Wall Street Journal is a global news organization that provides leading news, information, commentary and analysis. Published by Dow Jones, The Wall Street Journal engages readers across print, digital, mobile, social and video. It holds 38 Pulitzer Prizes for outstanding journalism.
1211 Avenue of the Americas, New York, NY 10036