PROTON THERAPY INSTITUTE
40 Enterprise Parkway
Phone: 757-251-6800
Hampton, Virginia 23666
FOR IMMEDIATE RELEASE
January 30, 2023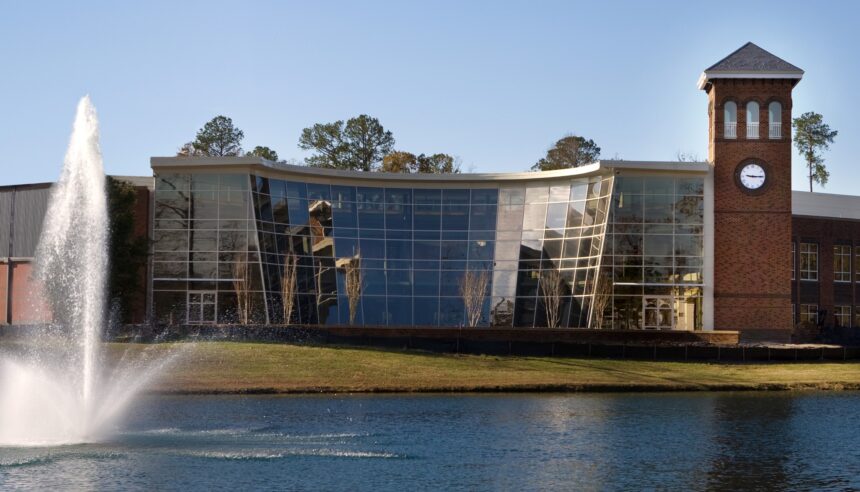 On January 25, The Hampton University Proton Therapy Institute (HUPTI) hosted the year's first Spotlight on the Peninsula event for the Virginia Peninsula Chamber. The evening was attended by about 65 key members and leaders of the Hampton Roads community, including Barret Stork, director of Government and Regulatory Affairs for COX Virginia, the event's presenting sponsor; City of Hampton Mayor Donnie Tuck; and Hampton University President Darrell K. Williams.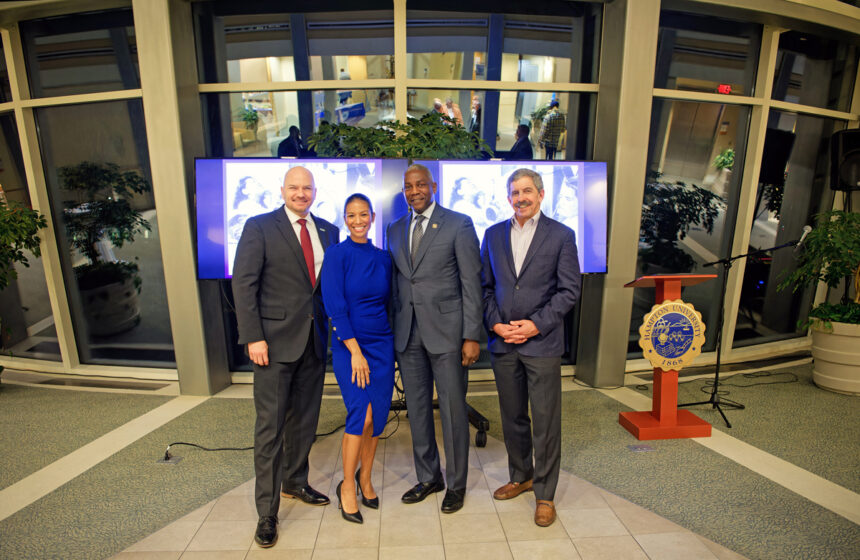 The Spotlight on the Peninsula is a monthly, free networking event that started about four years ago. The third visit was hosted at the Hampton University Proton Therapy Institute, said Bob McKenna, the Virginia Peninsula Chamber President/CEO. "The intent of the program is to show people some of the great assets that we have [in the peninsula]."
During the opening remarks, President Williams thanked the Chamber and McKenna for spearheading efforts to raise millions of dollars for additional equipment at HUPTI.
McKenna has championed HUPTI and Hampton University through various communal efforts, Williams said. These efforts ultimately resulted in the ability to raise about $2 million for an MRI that resides in the center and helps provide support to somewhere between 60 and 80 patients a day. "That's to real people here in the Tidewater area that are getting help through the Proton Therapy Institute."
MaryBeth Sullivan, HUPTI's executive director, spoke on the history of the center and state-of-the-art technological advancements that are to come, including a revolutionary PET scanner that will be brought to HUPTI in 2024.
The event included a 20-minute presentation led by one of HUPTI's radiation oncologists, Dr. Allan Thornton, who offered attendees a high-level review of the history of proton therapy, what its capabilities are, and some real case studies of patients he has treated. The evening concluded with members of HUPTI's leadership team offering tours of the facility, including a behind-the-scenes look at the machinery that is used to treat about 75 patients daily.
_____________________________________________________________________
About Hampton University Proton Therapy Institute (HUPTI)
The Hampton University Proton Therapy Institute (HUPTI), established in 2010, has successfully helped fight the cancers of more than 4,000 patients from across the globe. Located in Hampton, Virginia, HUPTI is the largest standalone proton treatment center in the country, and at its inception, was the eighth such center in the United States. Proton therapy is universally accepted as a viable and effective method to treat many forms of cancer—one of the top killers in Virginia. It is a noninvasive option that precisely targets the tumor, sparing healthy tissue. At HUPTI, patients receive outpatient treatment in about 30 minutes, which means no hospital stays, allowing them to maintain their current lifestyle. The center treats several types of cancer, including breast, lung, prostate, head & neck, ocular, brain & spine, gastrointestinal and pediatric tumors.
Media Contact:
Lourdes Hernandez
Multimedia Marketing Specialist
757.251.6814
Lourdes.Hernandez@hamptonproton.org