SHE CARE WELLNESS POD AT HAMPTON UNIVERSITY CAMPUS IN HAMPTON, VIRGINIA

***FOR IMMEDIATE RELEASE***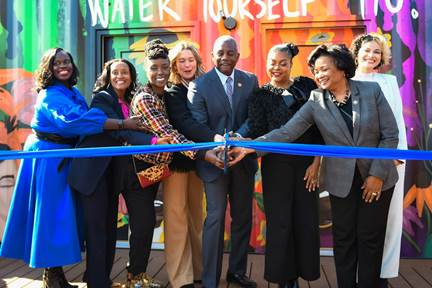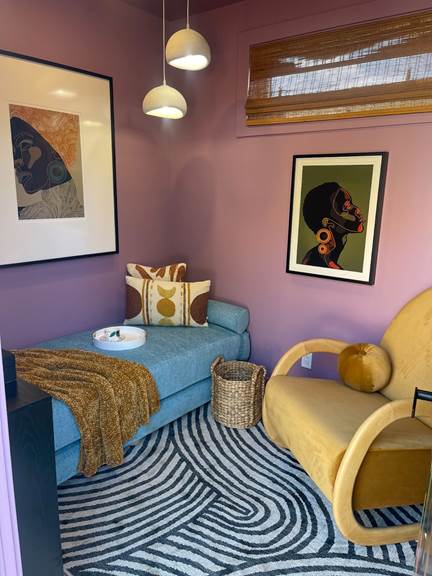 The ribbon-cutting celebration featured musical and dance performances from local student artists to unveil the campus's new 'She Care Wellness Pod', which will provide frontline mental wellness care and resources to the Hampton University community.
Taraji P. Henson, Tracie Jade Jenkins, Darrell K. Williams, Dr.
Barbara Inman, Dr. Kristie Norwood, Taryn Bird, and T'Kiyah
Reeves celebrating the opening of the second 'She Care
Wellness Pod' at Hampton University
WHO: Notable attendees included actor, filmmaker, founder of The Boris Lawrence Henson Foundation and
kate spade new york Social Impact Council member, Taraji P. Henson, Executive Director of The Boris Lawrence Henson Foundation, Tracie Jade Jenkins, Hampton University President,Darrell K. Williams, Hampton University Vice President for Administrative Services, Dr. Barbara Inman, Director of the Hampton University Student Counseling Center, Dr. Kristie Norwood, Executive Director of Social Impact at kate spade new york, Taryn Bird, and more.
WHEN: Thursday, November 2, 2023
WHERE: Hampton University, Hampton, VA
ASSETS: For more information and visual assets of the pods, please see press kit HERE.
WHAT: OnThursday, November 2, 2023, Taraji P. Henson, The Boris Lawrence Henson Foundation (BLHF), Kate Spade New York and Hampton University celebrated the opening of the campus's 'She Care Wellness Pod,' an extension of the program launched earlier this year that aims to reach over 25,000 Black women on HBCU campuses with frontline mental wellness care.
In April 2023, BLHF and Kate Spade New York first teamed up to create more access to culturally competent mental health resources for women and girls by jointly launching the first-of-its-kind program, which was concepted by actor, filmmaker, and founder of The Boris Lawrence Henson Foundation, Taraji P. Henson, and Tracie Jade Jenkins, Executive Director of The Boris Lawrence Henson Foundation at Alabama State University.
In partnership with trusted community resources, the program takes a multifaceted approach through the opening of 'She Care Wellness Pods,' physical structures installed on campuses that offer a range of services, including:
· Free mental health therapy sessions for female students experiencing an exacerbation of stress, anxiety and hopelessness.
· Hangout spaces that allow students to connect with peers or avoid isolation and grief during the school year and vacation periods.
· Unique programming including yoga, meditation, art and drama therapy, African dance, nutrition, and more, all provided by certified practitioners.
· Workshops that offer resources and tools for those who suffer with anxiety, sleep deprivation, and insomnia.
· Quiet spaces for silence, rest and respite to reset from daily stressors.
Hosted by Hampton University President, Darrell K. Williams, Taraji P. Henson returned to her D.C. Metropolitan area roots to make an appearance at the 'She Care Wellness Pods' opening event and shared remarks on her continued commitment to the program. Reaching even more young black women and students, the ribbon-cutting ceremony officially welcomed the Hampton University community to begin utilizing the 'She Care Wellness Pods' for mental wellness care.
Each 'She Care Wellness Pod' is designed to create an environment that stimulates joy, peace and serenity through intentional design and color selection. Each campus's pods feature a mural created by a student artist that reflects the unique identity of the institution from the perspective of the student body. Selected to design the murals at Hampton University, T'Kiyah Reeves created a work of art that represents four Hampton University students and their intersecting identities. The art features colors of green, orange and purple which are synonymous with the student class colors.
The 'She Care Wellness Pods' were built by S.I. Container Builds, a woman-owned modular construction company that specializes in repurposing shipping containers and building with sustainable materials and were designed by Saudah Saleem Interiors in collaboration with Kiyonda Powell Design Studio.
ABOUT BORIS LAWRENCE HENSON FOUNDATION:
Founded in 2018, BLHF has built its reputation on providing trusted referrals and demonstrating a deep understanding of the population health of communities of Color. Through timely and relevant programming and awareness campaigns, BLHF encourages mental wellness, raises awareness of the stigma and the use of stigmatizing language when referring to mental illness, and provides mental health resources to the Black community.
The Boris Lawrence Henson Foundation is charting a new course that encourages Black individuals to own their history, heritage, and collective wounds in empowering, empathic, and transformative ways. For more information, visit https://borislhensonfoundation.org/.
ABOUT KATE SPADE NEW YORK:
Since its launch in 1993 with a collection of six essential handbags, Kate Spade New York has always stood for color, wit, optimism, and femininity. Today, it is a global lifestyle brand synonymous with joy, delivering seasonal collections of handbags, ready-to-wear, jewelry, footwear, gifts, home décor and more. In addition to its rich heritage and unique brand DNA that offers a distinctive point of view, and celebrates communities of women around the globe who live their perfectly imperfect lifestyles, another core piece of the brand's DNA is its social impact work. For more than a decade, women's empowerment has been at the forefront of the brand's purpose, and the brand has committed to using its platform and resources to destigmatize mental health and provide more women and girls with access to resources and support. Kate Spade New York is part of the Tapestry House of brands.
ABOUT HAMPTON UNIVERSITY:
Rich in history, steeped in tradition, Hampton University is a dynamic, progressive institution of higher education, providing a broad range of technical, liberal arts, and graduate degree programs. In addition to being one of the top historically black universities in the world, Hampton University is a tightly-knit community of learners and educators, representing 49 states and 35 territories and nations.
For more information, visit https://https://home.hamptonu.edu/about/
CONTACT: LaForce, katespade@laforce.nyc