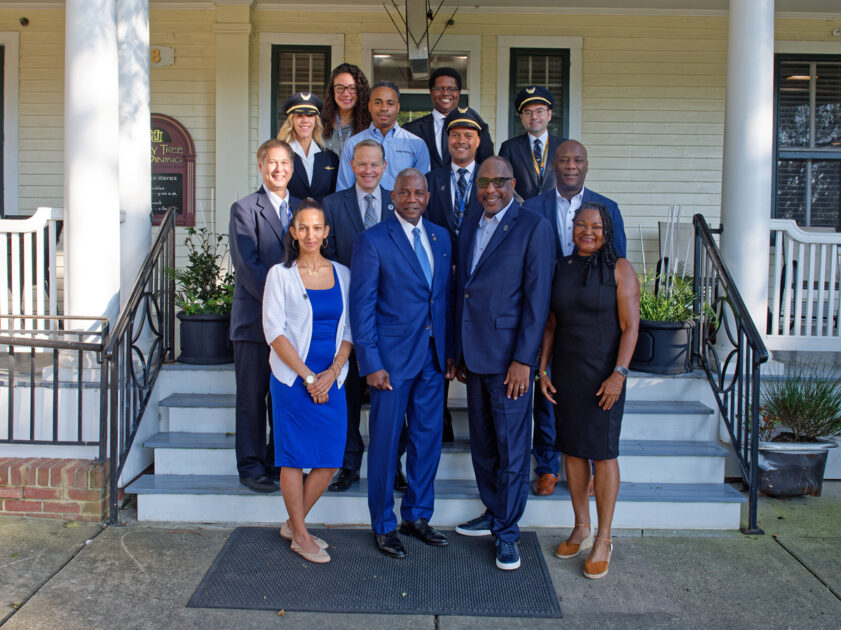 The promise of aviation at Hampton University pairs the steadiness of anchors with the adventure of flight. United Airlines officially announced the expansion of its dynamic Aviate program to the department of aviation at Hampton's School of Engineering, Architecture, and Aviation (SEAA). This exciting partnership will empower a new generation of leaders to take to the skies, casting a colorful future for the world of aviation.
Anchored Dreams Take Flight
United held an official launch day on campus to celebrate and establish rapport with aviation students and faculty. The launch included a presentation, panel, and a networking lunch for students to deeper connect with United reps. Aviate, which was launched by United Airlines in 2019 offers students a direct route to flying with the airline, including the training and support necessary to earn their wings. Upon successful completion, students transition to United as a First Officer, pending they meet all hiring requirements. Aviation Flight Safety Manager at Hampton, Orestes Gooden shared, "We are all excited for our students and want to continue fostering long lasting partnerships to put them in the best position to succeed."
The Skies Belong to You
United's commitment to diversity and inclusion shines through this program. Devin Cobb, United's Director of Diversity Equity and Inclusion, shed light on the importance of the partnership taking off at Hampton and the industry call to continually diversify the skies. "Diversity isn't just an initiative here [at United], it's how we do business. We deliver our best when we bring in leaders from different races, backgrounds, gender, and thought," Cobb shared.
Senior Program Manager of Aviate, Captain Monica Frain shared a special sentiment with the young women in the room: "When I first began my aviation career, I was the only woman. I was the only woman in my cohort and just about every other important space you can think of, yet I was always valued, heard, and chosen. Since then, I have seen an increase in women in aviation – so, that tells me two things: United Airlines champions diversity and there is still much work to be done."
Flying Full Circle
Maurice "Moe" Mullen and Captain David Simpson returned to their Home by the Sea to usher in the new partnership. Moe is a 2007 Aviation Management graduate and member of the Quintessence 6 class. The Aviate Partnership Launch was his first time returning to campus as an alumnus for what he will always remember as his "full circle moment." Mullen reflected, "Facilitating this partnership and being able to return to my Home by the Sea for the program launch reunited me with my roots and put a challenge on me to maintain the relationship on both sides – as a leader at United and a Hampton alum." Captain David Simpson is an HU graduate and is lovingly known as one of the "Hampton 6", a group of six students who graduated from Hampton Aviation together and are now captains at United Airlines.
Each One, Teach One
In the room, flight instructors Tavis Garlington and Ellis Woodyard took in the moment with a sense of pride. The two graduated from Hampton Aviation in May and remember the nascent state of the department just four years ago. Since then, the Department of Aviation has grown from the grounds of the School of Engineering and Technology to the top of the newly named School of Engineering, Architecture & Aviation (SEAA).
As top candidates with every option at their fingertips, the two returned to Hampton to teach the next class. "When we were coming up in this program, we didn't have flight instructors who looked like us, so being the ones to teach and offer students what we only hoped for is really special," Garlington shared. Woodyard added, "We could have gone anywhere, but we decided to stay and pour back into the program that shaped us."
Their choice to stay and mentor future aviators is not merely about teaching flight skills; it's also about being visible role models for aspiring aviation professionals who may have longed to see individuals like themselves in such roles. Through their commitment to Hampton Aviation, Garlington and Woodyard are championing the cause of diversity and representation within the aviation industry, ensuring that the path to excellence in the skies is accessible to Black future aviators.
High Altitude
The School of Aviation is a center of excellence that elevates the industry standards of leadership, integrity, and service. As one of only 40 Aviation programs in the world accredited by the Aviation Accreditation Board International (AABI), students are certain to embark on a world class experience with a competitive edge. For over three decades, Hampton Aviation graduates have dominated the industry as airport operators, pilots, and air traffic controllers with the pride of hailing from the first HBCU with a Federal Aviation Administration (FAA) approved Air Traffic-Collegiate Training Initiative (AT-CTI) program.
The program offers three Bachelor of Science degrees:
· Flight Education – Minor in Aviation
· Aviation Management – Air Traffic Control
· Aviation Management – Airport Administration
Hampton Aviation alum praise the program for its low student-teacher ratio, rich history, close-knit community, and premier industry relationships that offer students an individualized learning experience and the support to enter the workforce as a preferred candidate.
Elevating Hampton Excellence
"The history that Hampton University has with United Airlines is golden. They [United] have 11 captains from our program. The pathway was already there but this partnership honors almost 30 years of excellence," John Murray, Hampton Aviation Department Chair shared.
"We've produced the next generation of the "Hampton 6", and we plan to have stories of the Hampton 16 to the Hampton 60. We've seen a 75% increase in enrollment because of stories like the Hampton 6 – our door hasn't stopped knocking since," Gooden and Murray added. The latest "6" are 2023 graduates Ellis Woodyard, Tavis Garlington, Griffin Weathers, Kerry White, Myles Divinity, and Thomas Brown – all future pilots thriving from airline partnerships that will position them to be the next generation of captains.
As the inaugural class of Aviate at Hampton University takes off, the aviation industry can be confident knowing that the future of flight has just become a lot more diverse and promising. United Airlines and Hampton University have come together to ensure that the sky is not the limit but the dream destination to an anchored journey in excellence.
Naiyana Williams, Senior Writer