Washington, D.C. – As a select group of HBCU student journalists sat in the White House briefing room on February 23 not knowing what to expect, the Vice President of the United States and Senior Advisor for Public Engagement gave them one mission: lead.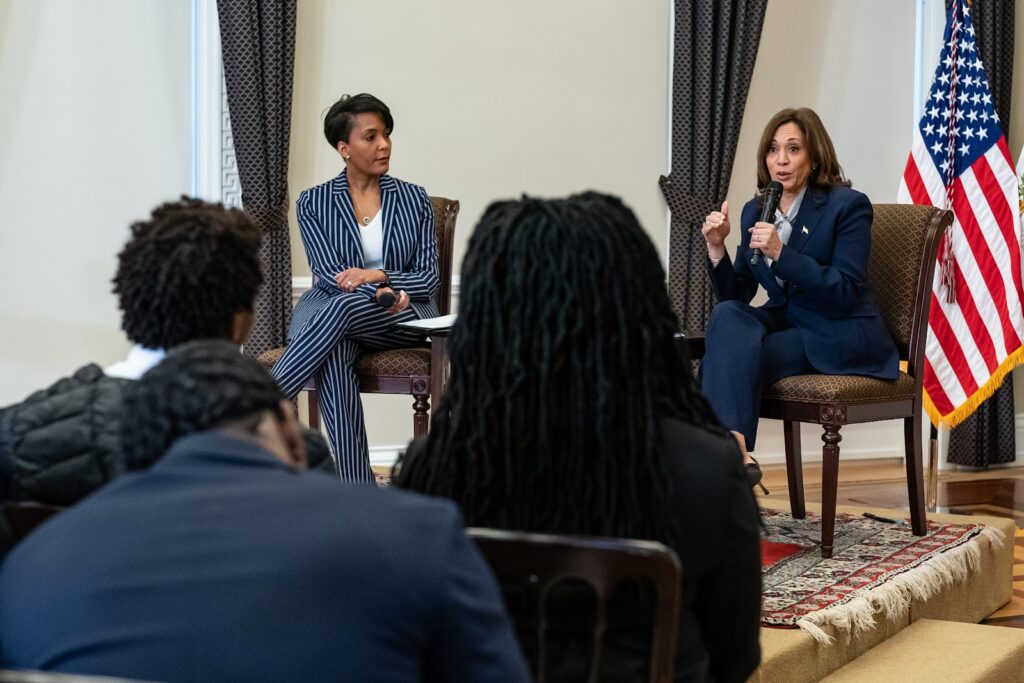 The press briefing covered student-led topics such as underfunding, racial inequality, climate change, mental health, and the appreciation of Historically Black Colleges and Universities (HBCU). However, the dominant theme throughout was leadership.
"We are requiring you to lead," said Vice President Kamala Harris, a prominent Howard University alumna. "We are counting on you to help us educate our world about who we are as Americans."
Before Vice president Harris' appearance, Keisha Lance Bottoms directed a riveting conversation guided by student questions. A true leader in the White House, Bottoms was the first mayor in Atlanta to serve in all branches of the city's local government: city council member, county judge, and mayor. Addressing the controversy over Florida's African American studies, Bottoms credited Florida Agricultural and Mechanical University (FAMU) for her leadership skills when she was a student journalism major.
"I had a professor, Emma Dawson, who exposed me to Zora Neale Hurston, and she taught a seminar on Toni Morrison," Bottoms said. "All of these things had just enriched me. When I see what's happening in Florida, it's frightening. It's disheartening. It makes me angry."
The former mayor of Atlanta explained that the Biden-Harris administration's historic $6 billion investment can only do so much without interfering with the state level. Student journalists were encouraged to be a leader in monitoring local politics.
"So just a reminder of why elections matter, not just when it's time to go and vote for the president but when it's time to vote for your elected officials," said Bottoms. "All the funding in the world, quite frankly, cannot stop what the governor is doing, and what he is doing is disgraceful."
Despite the constant fight to protect HBCUs, the FAMU alum highlighted the collaborative work being done to combat historic underfunding.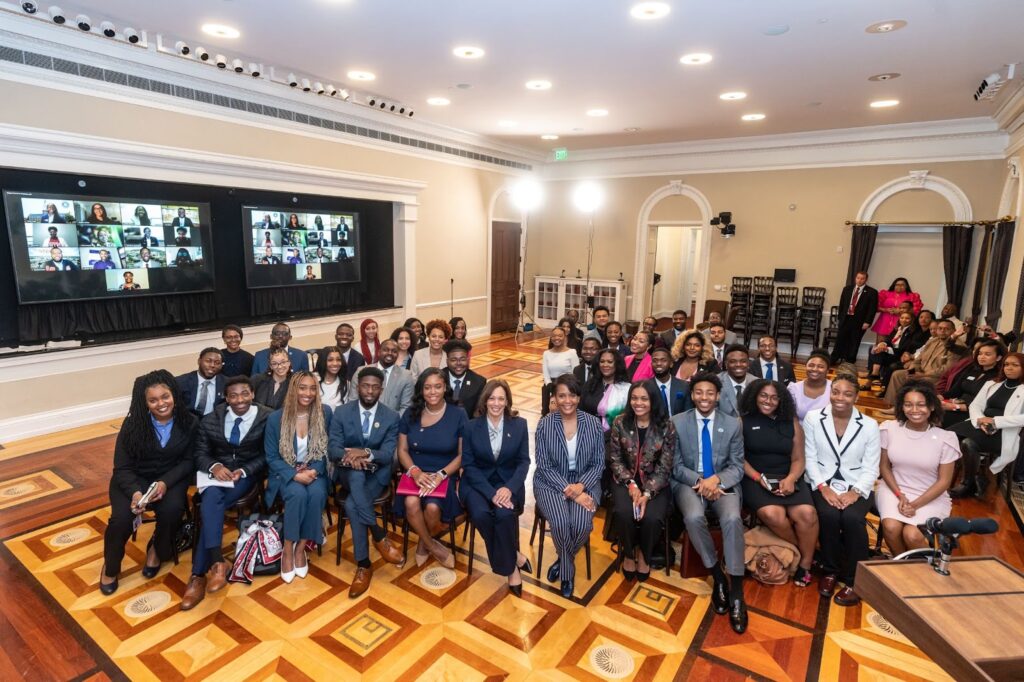 "There's a great committee led by Tony Allen, President of Delaware State," said Bottoms cheerfully. "They are getting exposure to where the resources are and how funding can be accessed."
Hampton University's Scripps Howard School of Journalism & Communications was represented by myself, a second-year journalism major, accompanied by Dean Julia A. Wilson. Hampton's visit to the White House confirmed Wilson's confidence and faith in the leadership of her student journalists.
"Seeing little things Morgan did like making sure she's sitting in the front row with our Vice President talking directly to her and being the first to stand on the White House podium for photos spoke volumes," said Wilson. "Our students are ready to participate. Ready to lead."
Vice President Harris mentioned that the Divine Nine was foreign to the White House even though both Harris and Bottoms are active and vocal members. The Divine Nine, also referred to as The National Pan-Hellenic Council, houses nine Black Greek-letter organizations.
"When I first took the stage as a nominee to be Vice President, I talked about my family," said Harris. Within her list of families, she mentioned her Divine Nine family. "There were people looking at each other, 'What's Divine Nine?' and I thought to myself, 'You're about to find out.'"
A FAMU student from the same former chapter of Delta Sigma Theta Sorority Incorporated as Keisha Lance Bottoms appreciated the two political leaders being vocal about the organizations' leadership.
"I know what it feels like to have our Divine Nine culture not be understood," said junior journalist Kyla Hubbard. "It felt extremely good to be seen and heard as a member of Delta Sigma Theta by some of the top leaders in the world that share the same experiences as me."
The vice president not only emphasized leadership but advised the HBCU student journalists to tell stories that maintain humanity in a world that often forgets to do so.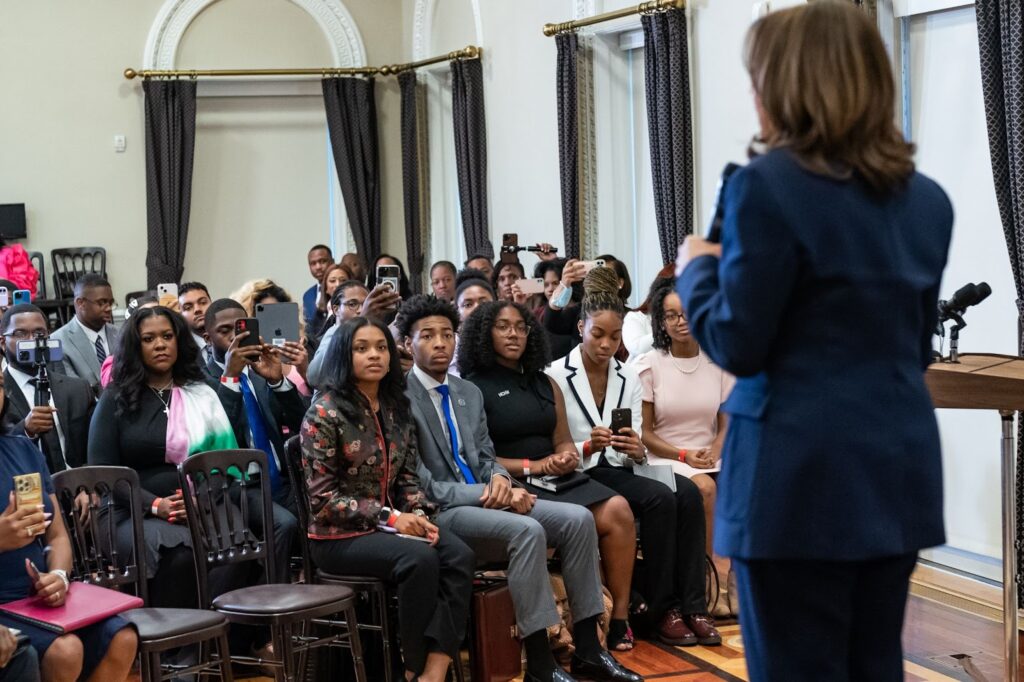 "I would encourage you as journalists to remind all of us to see people in their true selves," said Harris, a California native. "We should always require our leaders, in particular, to see people in the full relief of who they are."
Although the Biden administration is credited with making progress with Black universities, the two prominent HBCU alumni stressed the need for leadership from budding journalists in working toward a better future.
"We're going to need you to help us articulate why we need to put resources into the things we just discussed," said Vice President Harris, who has created legislation to preserve HBCUs. "We need you to lead and help us see what's coming."
Students felt empowered seeing their nation's vice president and senior advisor for public engagement, both ardent HBCU allies, show interest in and excitement for their futures. They received assurance that their voices matter.
"When Keisha Lance Bottoms said that this is the coolest thing she's done since being in the White House, I knew we were finally getting the representation we needed," said Marcus Speakman, a junior representing Miles College. "They're counting on us to lead."
###