Educators and Working Journalists Explore Best Practices in Global Media and Journalism Instruction and Programs
(HAMPTON, VA.) – As part of a global partnership with the International Center for Journalists (ICFJ), the Hampton University Scripps Howard School of Journalism and Communications today hosted a 10-member Georgia (Eastern Europe) delegation of journalists and faculty to learn, evaluate and discuss higher education's best practices in media education programs in the U.S.

"We are honored to collaborate with ICFJ to support a global free press and examine world-class journalism values, ethics – and educational practices," said Julia A. Wilson, SHSJC dean. "It is admirable that these passionate journalists and educators are demonstrating their dedication and commitment to building international journalism programs in various universities throughout the country," she continued. "It's our pleasure here at the SHSJC to support these educators in any way that we can. We look forward to a long-lasting exchange of ideas and information for our mutual support and growth.
"Our mission at the International Center for Journalists is to build the expertise and storytelling skills of reporters worldwide," said Sher Kasimov, program director of ICFJ, who accompanied the group and served as a language translator. "Partnerships with schools like the Scripps Howard School are vital and valuable in executing this important mission."

As part of the visit, the delegation visited select journalism and strategic communications classes, toured the school, and discussed best practices for developing curriculum in media instruction with SHSJC professors. The visit ended with an ongoing commitment from both parties to continue closely communicating and working together toward faculty and student exchange programs. The group also will visit the American University School of Communication in Wash., D.C., and Arizona State University's Walter Cronkite School of Journalism.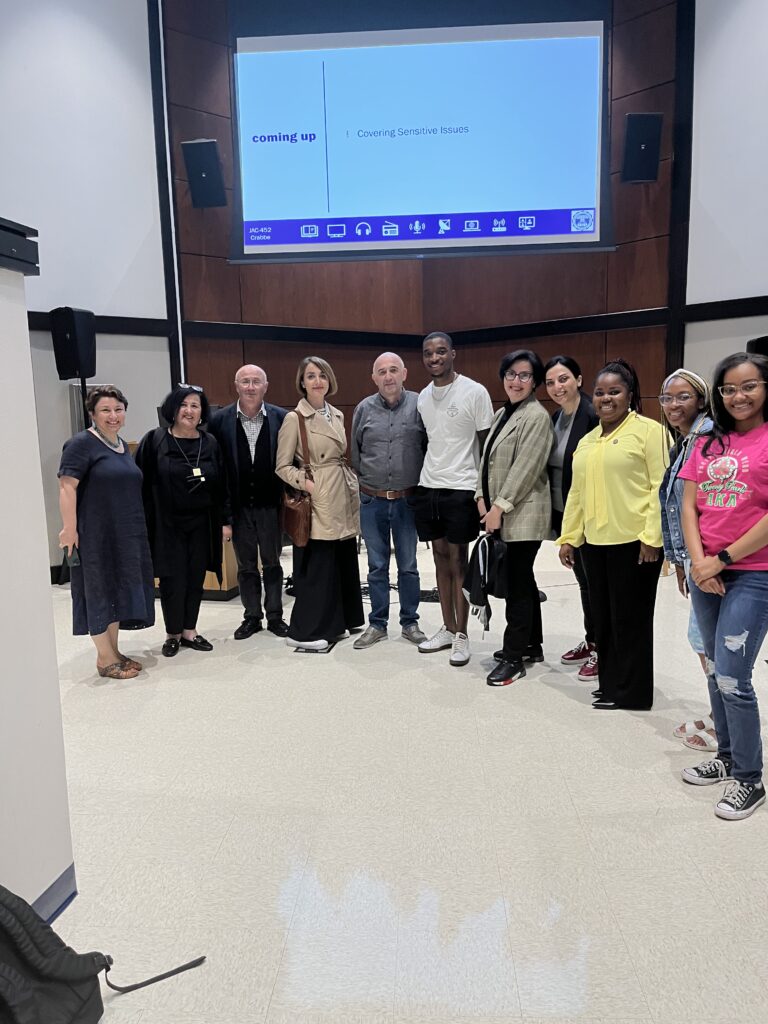 ###
About The International Center for Journalists:
The ICFJ works at the nexus of journalism and technology, building the expertise and storytelling skills of reporters worldwide. Through ICFJ's work, journalists are enhancing news coverage and connecting more deeply with their audiences. This is resulting in an increased flow of reliable, trustworthy news – a cornerstone of healthy democracies. The ICFJ says: "We believe that better journalism leads to better lives." For more information please visit: https://www.icfj.org/.

About the Scripps Howard School of Journalism and Communications:
Founded in 2002, the Scripps Howard School of Journalism and Communications emphasizes excellence and innovation, while adhering to core industry standards and ethical principles. SHSJC is equipped with a professional television studio and control room, a live, FM radio station (WHOV 88.1 MHz), with digital streaming to the Internet, high-tech classrooms equipped with state-of-the-art Promethean boards and a 150-seat stadium-style media auditorium.

SHSJC students and alumni have worked in internship positions and launched media careers with top-ranked organizations such as Google, NPR, Radio One, The Washington Post, Essence Magazine, Time Magazine, ESPN, USA Today, Bloomberg News, Ogilvy, Burson-Marsteller, ABC, CBS, NBC, CNN and many more. For more information please visit: https://home.hamptonu.edu/shsjc/.

About Hampton University:
Hampton University is a comprehensive institution of higher education, dedicated to promoting learning, character building and preparing promising students for positions of leadership and service. Its curriculum emphasis is scientific and professional, with a strong liberal arts undergirding. In carrying out its mission, the university requires all that it does to be of the highest quality.
A historically Black institution, Hampton University is committed to multiculturalism. The university serves students from diverse national, cultural and economic backgrounds. Research and public service are integral parts of Hampton's mission. To enhance scholarship and discovery, the faculty is engaged in writing, research and grantsmanship. In achieving its mission, Hampton offers exemplary programs and opportunities which enable students, faculty and staff to grow, develop and contribute to society in a productive and useful manner. For more information please visit: https://home.hamptonu.edu/.
###