Hampton University Alumni and Friends Donate $60,000 to Character Matters Scholarship and to Support Campus Ministries
Springfield, VA. (Aug 11, 2022) — On Sunday, May 22, then Hampton University President-Elect Darrell K. Williams and Mrs. Myra Richardson Williams were the guests of honor at a reception organized by The Friends of Hampton University to celebrate his impending installation as Hampton's 13th president. The event successfully raised $60,000 ($25,000 from Alfred Street Baptist Church) in support of the Character Matters Scholarship and campus ministries.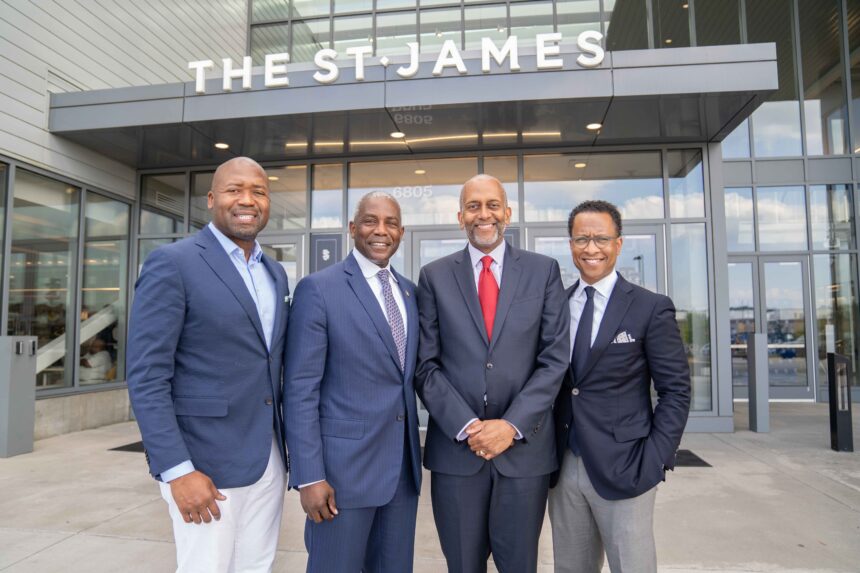 Kendrick F. Ashton, Jr. and Craig Dixon, owners of The St. James, a 450,000 square-foot health club in Springfield VA, and 1983 Hampton graduate Pleasant S. Broadnax, III, Esq. hosted the event. Others in attendance included Hampton University alumni, current and incoming students, members of Alpha Phi Alpha Fraternity, Inc., Alpha Kappa Alpha Sorority, Inc., and Delta Sigma Theta Sorority, Inc., as well as friends and members of the Williams' family.
"On behalf of Hampton University and our students, I want to thank Kendrick and Craig, as the owners of the St. James, and alumnus Pleasant Broadnax for planning and organizing this wonderful event," said President Williams. "These funds will go toward delivering the number one student experience in America."
Hampton University established the Character Matters Scholarship during the 2021-2022 academic year to recognize students who demonstrate good character traits. As a result, the University now awards 100, first-time freshman a $10,000 renewable scholarship. Admitted freshmen in financial need may submit an essay on the topic How I Have Demonstrated Excellence in Character to apply for the scholarship. Applicants must also submit a letter of recommendation from a teacher or guidance counselor that addresses their demonstrated good character. For more information on applying for the 2023-24 academic year scholarship, contact the Hampton University Office of Admission. 
During The Friends of Hampton University event, Rev. Dr. Howard-John Wesley, senior pastor of the historic Alfred Street Baptist Church, pledged $25,000 to Hampton University campus ministries, which brought the total raised to $60,000. Those funds were presented to the President and First Lady on July 2 at Alfred Street Baptist Church.
About Hampton University
Hampton University is a comprehensive institution of higher education. For more than 150 years, it has been dedicated to the promotion of learning, building of character and preparation of promising students for positions of leadership and service. It emphasizes a scientific and professional curriculum with a strong liberal arts undergirding. In carrying out its mission, the University requires that everything that it does be of the highest quality. A historically black institution, Hampton University is committed to multiculturalism. The University serves students from diverse national, cultural and economic backgrounds. Research and public service are integral parts of Hampton's mission. In order to enhance scholarship and discovery, the faculty is engaged in writing, research, and grantsmanship. In achieving its mission, Hampton University offers exemplary programs and opportunities which enable students, faculty and staff to grow, develop and contribute to our society in a productive and useful manner. Visit www.hamptonu.edu
About the St. James
The St. James is a 450,000 square-foot health club in Springfield VA. It features personal training sessions, complimentary wellness evaluations, more than 100 group fitness classes per week and a high-performance training center. Members of the fitness center have everything they need to reach their fitness and wellness goals. The state-of-the-art facility also features daycare options, a FIFA regulation-sized turf field, two NHL regulation-sized ice rinks, a three-story health club, a climbing wall, an indoor water park, a spa, an Olympic regulation-sized pool, a full gym with cutting-edge equipment, locker rooms with a steam room and sauna, and access to basketball courts, and the field house during special member events and times. For more information visit https://www.thestjames.com.