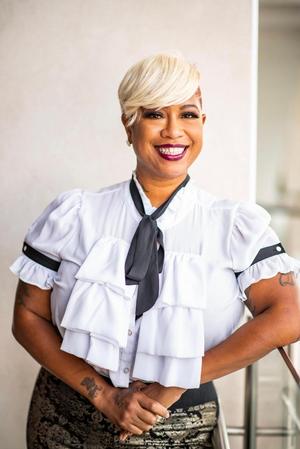 HAMPTON, Va.(Oct. 12, 2022) — The Hampton University Scripps Howard School of Journalism and Communications welcomes Kimberly Wimbish, an accomplished public relations professional known locally as a PR "star," to its teaching staff.
Kimberly Wimbish will serve as an adjunct professor and teach "Principles of Public Relations" and "PR, Campaigns, & Media Brand Marketing." She also will serve as the faculty advisor for the Hampton University public relations student society of America and Brand 757, the journalism and communications school's student-run PR agency.
"We are thrilled to have Ms. Wimbish join our teaching team," said Julia A. Wilson, dean of the Scripps Howard School of Journalism and Communications. "Her stellar reputation, hands-on approach to teaching and robust network of contacts are invaluable for our students."
Wimbish is known as the "People Connector" and the marketing & brand guru of the Hampton Roads community. She is a 2020 recipient of "Inside Business Forty Under 40" for outstanding young business professionals in Hampton Roads. Her clients include non-profit organizations, small businesses, universities, celebrities, political campaigns, and she provides sports management marketing and branding to corporations.
Wimbish served as the spokesperson for the family of Ashanti Billie, a 19-year-old missing woman, which resulted in the National Ashanti Alert Act in the United States. On December 31, 2018, the act became federal law, creating a national alert system for adults aged 18 – 64 – those too old for an Amber Alert and too young for a Silver Alert.
Wimbish's work has appeared on a multitude of national platforms. Her diverse portfolio of connections, including media outlets, has landed her clients in an array of national media outlets, publications, and radio programming including Fox News, CNN, BET, Essence, Ebony, Jet, CBN, Washington Post, Vibe, Source, New York Times, The Guardian, and others.
The Hampton University Scripps Howard School of Journalism and Communications is committed to preparing its students with a high-quality and well-rounded education for global careers in journalism and strategic communications. SHSJC emphasizes journalistic and communications accuracy, balance, fairness, integrity, and high ethical standards of excellence. The Scripps Howard brand is internationally renowned as a foundation that promotes, supports, and enables aspiring journalists.