Hampton, Va. (May 8, 2023) – Hampton University hosted a campus visit for U.S. Secretary of Education Cardona who led a roundtable conversation with Hampton University students and local college leaders about the importance of wrap around services in order to support students throughout college.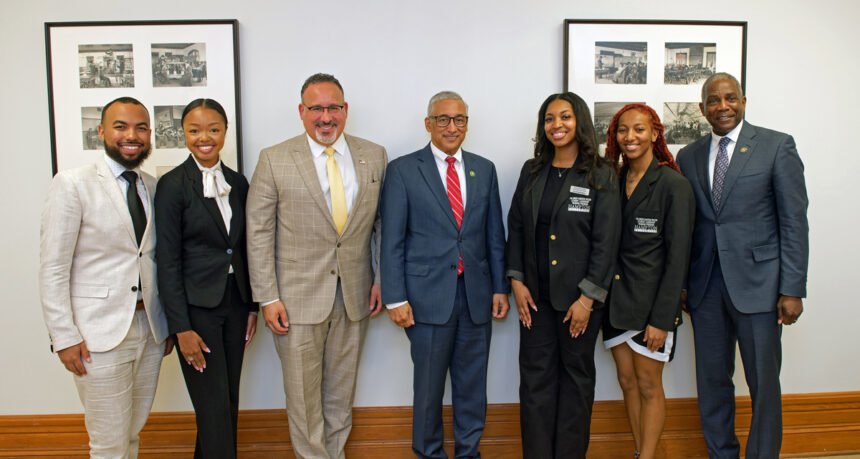 Federal Covid funds were used by many universities to help students stay enrolled, for debt removal, and living expenses. "It's good to see that many universities were able to continue to function and keep their students as a result of the federal dollars," said Secretary Cardona. "The word 'intentional' was mentioned a lot today," said Secretary Cardona. "We know two year schools are very malleable, but four year schools have a role because we're talking about millions of jobs."
 "We have a wonderful product at Hampton University," said Hampton University President Darrell K. Williams. "But like most universities, it's not inexpensive to attend.  I want to thank the Administration right up front for the Covid funding."
Congressman Robert C. "Bobby" Scott (VA-03), who co-facilitated the discussion, stated the debt relief funds were largely invested in supporting the Hampton University Proton Cancer Therapy Institute and providing debt relief for students.
Secretary Cardona asked students to describe their experience at Hampton and how it will impact their future. Graduating Senior Marketing major, Taylor Thomas, who shared she was raised in a single parent home, has accepted a position with Dow Jones. "Hampton University has prepped me for the job. I learned how to navigate different personalities and perspectives to go into the real world and expand," she said.
For more information, visit: https://www.ed.gov/
For more information, visit: https://home.hamptonu.edu/
###