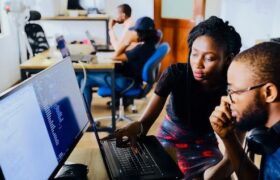 HAMPTON, VA (May 16, 2023) — The Deloitte Foundation has made an additional grant commitment of $600,000 to Hampton University for renewable student scholarships supporting Hampton University students majoring in business, accounting, and STEM-related fields. The Foundation's expanded commitment will fund scholarships for 20 students according to criteria established by Deloitte and selected by Hampton University who received the financial assistance as freshmen. Additionally, this funding will support the students through their sophomore, junior, and senior years, if they continue to meet the eligibility criteria. The expanded scholarship commitment will begin in Hampton's 2023-2024 academic year and conclude in academic year 2025-2026.
Each Deloitte Foundation scholarship recipient will receive $10,000 per year in funding to support their academic endeavors.
Hampton University Darrell K. Williams said, "We are deeply grateful to the Deloitte Foundation for their leadership and their commitment to Hampton, and especially for their work to expand opportunities for diverse students in business, accounting, and STEM degree areas. Our selected students pursuing these disciplines can continue to significantly benefit from this extraordinary gift."
The overarching purpose of these scholarships is to help ensure the persistence, retention and graduation of students enrolled in the accounting, business, finance, engineering, computer science, or mathematics academic degree programs. Assistant Vice President for Enrollment Management and Dean of Admission Angela Boyd, said, "This funding is important because it is critical that more students persist to graduation. There are many factors that shape student motivation to continue their academic journey, and not all of which are within the capacity of institutions to easily influence. That stated, funding and scholarship support is a very big deal and can inspire students to stay the course."
Deloitte Foundation President Erin Scanlon said, "We recognize the challenge of affording a college education. That is why we are expanding our funding to help support these Hampton students for another three years with a hope to see them through the completion of their undergraduate degrees. We are thrilled to help them progress on their academic and career journeys."
Those who receive the scholarship have a cumulative GPA of 3.0 or higher, are majoring in accounting, business, computer science, information systems, finance, engineering, or mathematics, have demonstrated leadership and/or community service and have been determined to have financial need.
Below are the prior Deloitte Foundation Scholars named by Hampton University in Academic Year 2022-2023. They each will receive a renewal on their scholarship support for Academic Year 2023-2024 and beyond, should they be returning students and continue to meet the criteria established.  
| | | |
| --- | --- | --- |
| Lavearion Bates | VA | Computer Science |
| Keana Beaufort | GA | Computer Engineering |
| Dori Bob | VA | Business Management |
| Tamia Booker | VA | Accounting |
| Briana Bradley | IL | Computer Science |
| Camiah Butler-Dungee | PA | Accounting |
| Saffie Cherif | MD | Computer Science |
| Anaya Efferson | MD | Computer Science |
| Madison Johnson | IN | Business Administration |
| Layla Kennedy | SC | Mathematics |
| Damon Lee | MD | Computer Engineering |
| Quentin Livingston | VA | Computer Engineering |
| Johnny Matthews | TX | Computer Information Systems |
| Elias Nelson-Clark | TX | Business Management |
| Taylor Richardson | MD | Business Administration |
| Monika Smith | NY | Finance |
| Alyssa Smith | SC | Accounting |
| Daniel Ufua | MD | Computer Engineering |
| Zaynah Williams | MN | 5-Year MBA |
| Kierra Wylie | IN | Business Management |
For more information, contact the Office of University Relations at 757.727.5350.
About Hampton University
Hampton University is a comprehensive institution of higher education, dedicated to the promotion of learning, building of character and preparation of promising students for positions of leadership and service. Its curriculum emphasis is scientific and professional with a strong liberal arts under girding. In carrying out its mission, the University requires that everything that it does be of the highest quality. A historically black institution, Hampton University is committed to multiculturalism. The University serves students from diverse national, cultural and economic backgrounds. Research and public service are integral parts of Hampton's mission. In order to enhance scholarship and discovery, the faculty is engaged in writing, research, and grantsmanship. In achieving its mission, Hampton University offers exemplary programs and opportunities which enable students, faculty and staff to grow, develop and contribute to our society in a productive and useful manner. Visit www.hamptonu.edu for more information.
About The Deloitte Foundation
The Deloitte Foundation, founded in 1928, is a not-for-profit organization that supports education in the U.S. through a variety of initiatives that help develop the next generation of diverse business leaders, and their influencers, and promote excellence in teaching, research and curriculum innovation. The Foundation sponsors an array of national programs relevant to a variety of professional services, benefiting high school students, undergraduates, graduate students and educators. Learn more about the Deloitte Foundation.
#HU#