Annual Ceremony Marks the Official Start of 2023 Academic Year
FOR IMMEDIATE RELEASE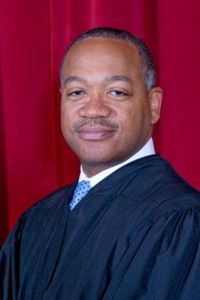 Hampton, Va. (Sept. 26, 2023) – Hampton University will mark another milestone in its 155-year history as the Honorable S. Bernard Goodwyn, Chief Justice of the Supreme Court of Virginia, will deliver the keynote address at the 80th Annual Opening Convocation on Sunday, October 1, 2023, at 10:00 a.m. at Convocation Center. This event is open to the public.
In a ceremony that marks the beginning of the academic year, Hampton welcomes the newest and largest cohort of young scholars since 2016 and their families and friends to the university. "Hampton University is honored to welcome Chief Justice Goodwyn to our Home by the Sea,"said Hampton University President Darrell K. Williams. "His renown as a man with a heart of service, Chief Justice Goodwyn is a remarkable example of leadership, an unyielding commitment to excellence, and an uncommon dedication to public service to which our students and all in attendance may aspire."
Following his appointment in 2007 to the Supreme Court of Virginia by Governor Timothy M. Kaine, S. Bernard Goodwyn was unanimously elected by the General Assembly to a 12-year term in 2008. He was reappointed by the General Assembly to a second 12-year term in 2020. The Justices of the Supreme Court of Virginia unanimously elected him to serve as the next Chief Justice, following Chief Justice Donald W. Lemons, effective January 1, 2022.
Chief Justice Goodwyn served as a circuit court judge for ten years and as a general district court judge for two years.
Prior to his service on the bench, Chief Justice Goodwyn was in private law practice and served on the faculty of the University of Virginia School of Law. Chief Justice Goodwyn has served as a member of the Virginia Code Commission and the Judicial Council of Virginia, as a subcommittee chair of the Virginia Supreme Court Judicial Performance Evaluation Task Force, as a member of the Working Group for the Establishment of Guidelines for Compensation of Court-Appointed Counsel, as a member of the Editorial Board of the Virginia Bench Book for Judges and Lawyers, as a member of the Joint Subcommittee Regarding Commissioners of Accounts, as member of the Virginia Supreme Court Virginia Courts in the 21st Century Task Force, and as Judge of the Chesapeake Drug Treatment Court Program, and is the former co-chair of the Virginia Access to Justice Commission.
A Southampton County native, Chief Justice Goodwyn graduated magna cum laude from Harvard University with an undergraduate degree in economics and was a member of the varsity football and track teams at Harvard. Chief Justice Goodwyn received his law degree from the University of Virginia School of Law, where he was an editor for the Virginia Tax Review, a member of the Raven Society, and a recipient of the Ritter Award for honor, character, and integrity.
The Opening Convocation Ceremony will be live-streamed at https://home.hamptonu.edu/livestream.
ABOUT HAMPTON UNIVERSITY
Hampton University is a comprehensive institution of higher education, dedicated to the promotion of learning, building of character and preparation of promising students for positions of leadership and service. Its curriculum emphasis is scientific and professional with a strong liberal arts undergirding. A historically Black institution, Hampton University is committed to multiculturalism, serving students from diverse national, cultural and economic backgrounds. Research and public service are integral parts of Hampton's mission. In order to enhance scholarship and discovery, the faculty is engaged in writing, research, and grantsmanship. In achieving its mission, Hampton University offers exemplary programs and opportunities which enable students, faculty and staff to grow, develop and contribute to our society in a productive and useful manner. For more information, visit www.hamptonu.edu.
###
Media contact: James Parker, Senior Director of Marketing & Media Relations, Office of University Relations, Hampton University, james.parker@hamptonu.edu, 757-718-2949