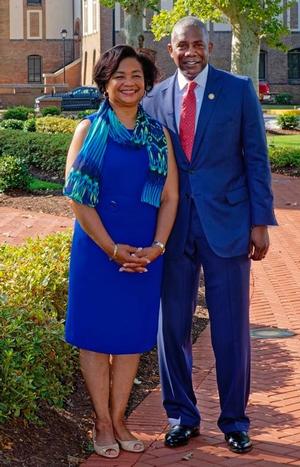 HAMPTON, VA (Sept. 23, 2022) — Hampton University has announced that President Darrell K. Williams, the 13th President of the University, and First Lady, Mrs. Myra R. Williams, have made a $100,000 gift to the institution. Their gift will be divided among six areas, as per the following:
$50,000 will be utilized to establish the Darrell K. Williams and Myra R. Williams Endowed Scholarship Fund

This fund will provide academic support to students majoring in Psychology. Both President Williams and Mrs. Williams were Psychology majors when they attended Hampton. This study area is of great importance to both.
Students may be of freshman, sophomore, junior or senior classification. Recipients must hold a 3.0 GPA and major in Psychology. They also must have a financial need.

$50,000 will be utilized to provide support to five separate student experience areas at the University. Those areas and funding provided are as follows:

$10,000 to the Marching Force, Marching Band.
$10,000 to the University Choir. Mrs. Williams was a member of University Choir while a student at Hampton.
$10,000 to the existing Hampton scholarship fund for the Black, Greek-lettered organization Alpha Phi Alpha Fraternity, Inc. President Williams is a member, having joined while a student at Hampton.
$10,000 to the existing Hampton endowed scholarship fund for Delta Sigma Theta Sorority, Inc. Mrs. Williams is a member of this organization, having joined the sorority while a student at Hampton.
$10,000 to the ROTC Program. President Williams received support through the Hampton ROTC program to attend Hampton, and this program is very important to him.
President Williams said, "We are delighted to provide this funding to support Hampton University students. My wife and I want to do our parts in ensuring that Hampton delivers the #1 student experience in America. This funding will support the students and the entities that are dear to us and were instrumental in our development."
Mrs. Williams said, "Our establishment of the endowed scholarship fund provides the academic funding students so need. We are thrilled to provide this funding." She added, "Student enrichment activities are critical to the full development of Hampton students as well. The funding we have provided will undergird the development of well-rounded students. We are so excited to support our Home by the Sea through these efforts."  
For more information, contact the Office of University Relations at 757.727.5253.
About Hampton University
Hampton University is a comprehensive institution of higher education, dedicated to the promotion of learning, building of character and preparation of promising students for positions of leadership and service. Its curriculum emphasis is scientific and professional with a strong liberal arts under girding. In carrying out its mission, the University requires that everything that it does be of the highest quality. A historically black institution, Hampton University is committed to multiculturalism. The University serves students from diverse national, cultural and economic backgrounds. Research and public service are integral parts of Hampton's mission. In order to enhance scholarship and discovery, the faculty is engaged in writing, research, and grantsmanship. In achieving its mission, Hampton University offers exemplary programs and opportunities which enable students, faculty and staff to grow, develop and contribute to our society in a productive and useful manner. Visit www.hamptonu.edu for more information.