HAMPTON, Va. (Sept. 20, 2022) — A team of seven Hampton University Aviation students won $10,000 when named winners of the General Aviation category of the Federal Aviation Administration's Smart Airport Challenge; they finished first runner-up across all categories of the competition. The students developed a concept that could help prevent runway incursions at airports across the nation.
This year, the 2022 FAA Challenge: Smart Connected Aviation Student Competition asked students to consider innovative improvements in the efficiency and effectiveness of smart technology throughout the airport environment. Student team members include graduate student Julian Payne-Dillard, graduating seniors, Raha Maxwell, Myles Divinity, Ellis Woodyard, Griffin Weathers, and Juniors Kailyn Hyman and Kiuma Muchira.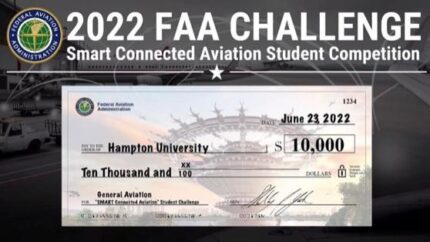 The concept the team brought to life is entitled "Runway Incursion Prevention System" or R.I.P.S. R.I.P.S. is an application that assists general aviation pilots' awareness of their surroundings while taxiing. The concept includes the ability to download the application via the Apple Store or Google Play Store, and it provides GPS and augmented reality routing and instructions, a heads-up display, and audible alarms to help ensure runway incursions are minimized.
"Our team did an excellent job on this project over this past year. This makes us back-to-back finalists," said Andrew Smith, Aviation assistant professor and the faculty advisor for the team. "There was a lot of brainstorming of ideas but ultimately, the concept of preventing runway incursions amongst general aviation pilots had a more personal connection as most of the team consists of student pilots."
The FAA launched this competition for undergraduate and graduate student teams to develop creative solutions to transportation technology challenges while addressing human-factor aspects of travelers' experience, and to share those innovations with the broader community. The Challenge Steering Committee selected four finalist teams from seven proposals submitted to compete for the $10,000-$25,000 cash prizes. Selection was based on project proposals, a technical paper, a digital poster, and a final presentation/demonstration to the Steering Committee judges during the 2022 Virtual Forum.
"This competition was intended to stimulate and advance innovation in aviation research and promote the development of a robust aviation workforce," said Shelley Yak, director of the FAA Technical Center. "Ultimately, ideas from participating student teams may help shape the future and foster innovation.
#HU#