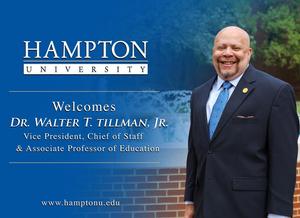 HAMPTON, Va. (Oct. 3, 2022) — Hampton University President Darrell K. Williams today announced the appointment of Walter T. Tillman, Jr., Ph.D. as vice president and chief of staff. In this position, Dr. Tillman, Jr. will bring administrative leadership, direction, evaluation, and synchronization of university-wide priorities and operations to the University. He has also been appointed associate professor of education in the School of Liberal Arts and Education.
"Dr. Walter T. Tillman, Jr. is a seasoned university professional and committed HBCU advocate who will also provide strategic resources and support for elevated excellence to all student populations, including international students, adult learners, and military veterans," said President Williams. "Additionally, Dr. Tillman, Jr. will assist in addressing priorities related to advancing Hampton University as a world-class university that delivers the #1 student experience in America."
Dr. Tillman, Jr. is an accomplished scholar, administrator, orator, and public servant who has cultivated a successful 20-plus year career in higher education and government. Most recently, he was the inaugural dean of graduate studies at Edward Waters University where he developed the first strategic plan for graduate studies, which included several new credentials and the University's newly approved Master of Arts in Education Policy and Advocacy.
Prior to his time at Edward Waters, Tillman, Jr. was special assistant to the chancellor of the Southern University Law Center and former system officer for academic initiatives at the Southern University System. Previously, he has served in the positions interim dean of student affairs and enrollment management, interim vice president for academic and student affairs, and senior development officer for corporate and foundation relations.
Dr. Tillman, Jr. earned the Doctor of Philosophy degree in Education Leadership, Research and Counseling from LSU, studying under the scholar Roland W. Mitchell, Ph.D. At LSU, Tillman, Jr. developed the seminal work "The Ebony Seven – private HBCUs best positioned to achieve global competitiveness." He also holds the Bachelor of Arts degree in English from Dillard University and the Master of Education degree in Education Administration from the University of New Orleans.
Acknowledged by national organizations for his leadership and academic accomplishments, Dr. Tillman, Jr. was elected to three national honor societies and has been appointed to seven Boards of Directors. He is an active member of Alpha Phi Alpha Fraternity, Inc., and is a licensed Baptist minister.
Since December 2021, Dr. Tillman, Jr. has been married to Mrs. Chrisjanea Tillman – a third generation HBCU alumna.
#HU#