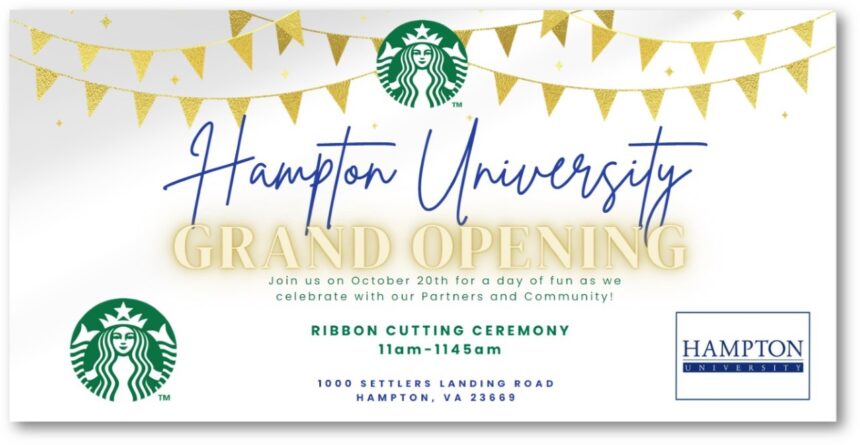 HAMPTON, Va. Oct. 20, 2022 -Today, Hampton University and Starbucks Coffee Company celebrate the official grand opening of a new location on campus with a ribbon cutting ceremony. The store is located in The Shops at Hampton Harbor at 1000 Settlers Landing Rd.
"Hampton University proudly welcomes Starbucks to 'Our Home by the Sea,'" said Hampton University President, Darrell K. Williams. "Starbucks presence in The Shops at Hampton Harbor not only provides another dining option for our campus community, but it also creates new job opportunities for our students, the local community and it enhances our ability to deliver the #1 student experience in America."
The opening of this Starbucks location has created 40 local jobs, from barista positions to local management. The store features a drive-thru with pickup window, large community tables with power, an outdoor covered patio and custom artwork that highlights the history of Hampton University.
We're excited to be serving the students, faculty and staff at Hampton University, along with the surrounding businesses and neighborhoods," said Lance Sharpe, Store Manager and Hampton University Graduate. "In opening this store, we are working closely with Hampton's leadership team to engage students and the community in ways that will make an impact locally."
The store will be open from 5:00 a.m. until 9:30 p.m. Monday through Friday and 5:30 a.m. until 9:30 p.m. Saturday and Sunday.
For more information, please contact the University Relations office at 757-727-5253 or the Starbucks team at press@starbucks.com.
About Hampton University :
Hampton University is a comprehensive institution of higher education. For more than 150 years, it has been dedicated to the promotion of learning, building of character and preparation of promising students for positions of leadership and service. It emphasizes a scientific and professional curriculum with a strong liberal arts undergirding. In carrying out its mission, the University requires that everything that it does be of the highest quality. A historically black institution, Hampton University is committed to multiculturalism. The University serves students from diverse national, cultural and economic backgrounds. Research and public service are integral parts of Hampton's mission. In order to enhance scholarship and discovery, the faculty is engaged in writing, research, and grantsmanship. In achieving its mission, Hampton University offers exemplary programs and opportunities which enable students, faculty and staff to grow, develop and contribute to our society in a productive and useful manner. Visit www.hamptonu.edu
About Starbucks:
Since 1971, Starbucks Coffee Company has been committed to ethically sourcing and roasting high-quality arabica coffee. Today, with more than 34,000 stores worldwide, the company is the premier roaster and retailer of specialty coffee in the world. Through our unwavering commitment to excellence and our guiding principles, we bring the unique Starbucks Experience to life for every customer through every cup. To share in the experience, please visit us in our stores or online at stories.starbucks.com or  www.starbucks.com