~ Hampton Alum Wanda Sykes Makes Major Contribution~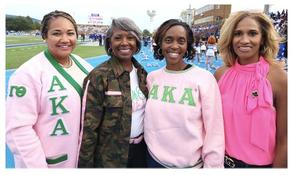 HAMPTON, VA (Nov. 1, 2022) — More than 400 donors have contributed more than $160,000 in just two months – to raise funds for the scholarship campaign initiated by alumni members of the Alpha Kappa Alpha Sorority, Inc. Gamma Theta Chapter of Hampton University. This campaign was initiated in honor of this chapter's 75th anniversary. The campaign began in April 2022 and will continue through June 30, 2023, where total contributes are expected to top the goal of $175,000 in donations. A check presentation of current totals was made to Hampton University President Darrell K. Williams at the university's annual homecoming game held Sat., Oct. 22, 2022.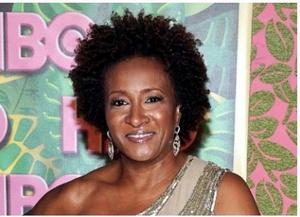 Campaign Co-Chair Sydni Craig, said, "For our national AKA organization, one of our most important priorities is to support scholarships for deserving, underrepresented students. Scholarships provide an opportunity for people to earn an education. Without assistance from outside sources, students may have trouble paying for their degrees."
Tonya Hamilton Cody, another Campaign Co-Chair, led efforts to meet with sorority members from across the world to share why they should contribute. She said, "We knew we could raise the funds for this important initiative. We already have established an endowed scholarship and we knew it was vitally important to expand our college scholarship support. The COVID-19 pandemic has impacted our Hamptonians so extensively, we knew that our anniversary would serve as a galvanizing moment for alumni of the Gamma Theta Chapter of AKA."
The third Campaign Co-Chair, Kirsten Roach, added, "We are AKA's and Hamptonians. Although contributions will continue to be accepted for this special campaign, we felt that the 2022 Homecoming was the perfect venue to focus our efforts and raise the visibility of the need for scholarship support by all alumni."
The final and fourth Campaign Co-Chair was Tisa Rabun-Marshall who managed marketing and public relations for the campaign. She noted, "It truly was inspiring to work with the sorors from all across the globe and to meet with them in our Zoom calls. This was fun plus it reminded us of the importance of giving to our alma mater."
To raise the visibility of the campaign, the co-chairs sought the support of all AKA Gamma Theta alumni. To that end, support from Emmy Award winning actor, comedian, and writer, Wanda Sykes was sought. She said, "I love my 'Home by the Sea.' I love its place in history as a major producer of top diverse talent. Hampton is and was such an important part of my success, and I'm so very pleased to give back through my sorority's scholarship campaign."
The funds raised will be equally split between the Gamma Theta Chapter's Endowed Scholarship Fund and a new Current Use Scholarship Fund.
For more information, contact the Office of University Relations at 757.727.5253.
About Hampton University
Hampton University is a comprehensive institution of higher education, dedicated to the promotion of learning, building of character and preparation of promising students for positions of leadership and service. Its curriculum emphasis is scientific and professional with a strong liberal arts under girding. In carrying out its mission, the University requires that everything that it does be of the highest quality. A historically black institution, Hampton University is committed to multiculturalism. The University serves students from diverse national, cultural and economic backgrounds. Research and public service are integral parts of Hampton's mission. In order to enhance scholarship and discovery, the faculty is engaged in writing, research, and grantsmanship. In achieving its mission, Hampton University offers exemplary programs and opportunities which enable students, faculty and staff to grow, develop and contribute to our society in a productive and useful manner. Visit www.hamptonu.edu for more information.