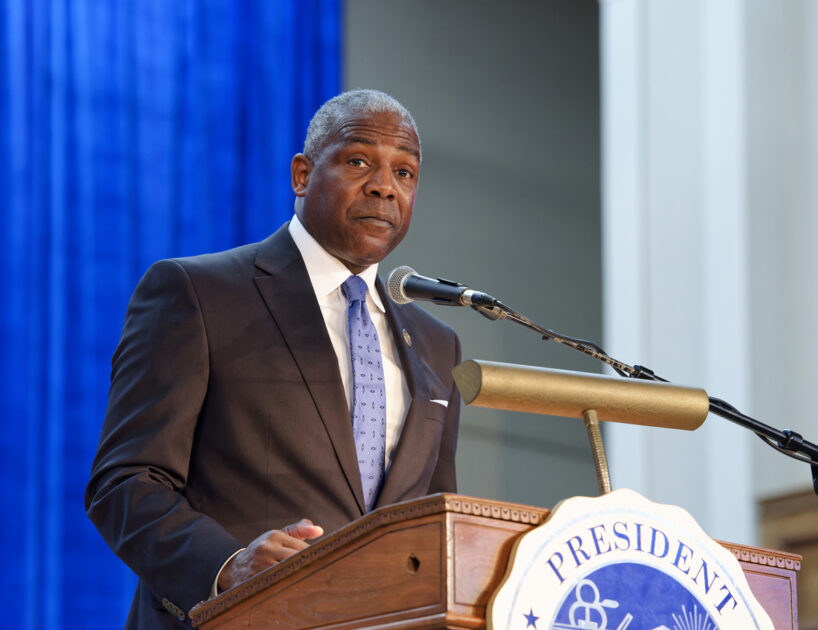 HAMPTON, Va. (January 29, 2023) – President Darrell K. Williams presided over his first Founder's Day celebration as Hampton University celebrated the 130th Annual Founder's Day Ceremony on Sunday, January 29, 2023.
"Amazing and awesome are my thoughts when I consider the connection between the founder Brigadier General Armstrong and myself, a retired Army officer, accepting the mantle and pushing us forward. Amazing!" said Williams.
Hampton Normal and Agricultural Institute was founded on April 1, 1868 by Brigadier General Samuel Chapman Armstrong. The Institute offered an education of "the head, the heart, and the hand" to the formerly enslaved. In keeping with tradition, a commemorative service was held at the Hampton University Cemetery, during which President Williams placed a wreath on General Armstrong's tombstone.
Hampton University Alumnus Dr. Freeman A. Hrabowski, III, president emeritus of The University of Maryland, Baltimore County (UMBC), who served from 1992 to 2022, was the Founder's Day keynote speaker.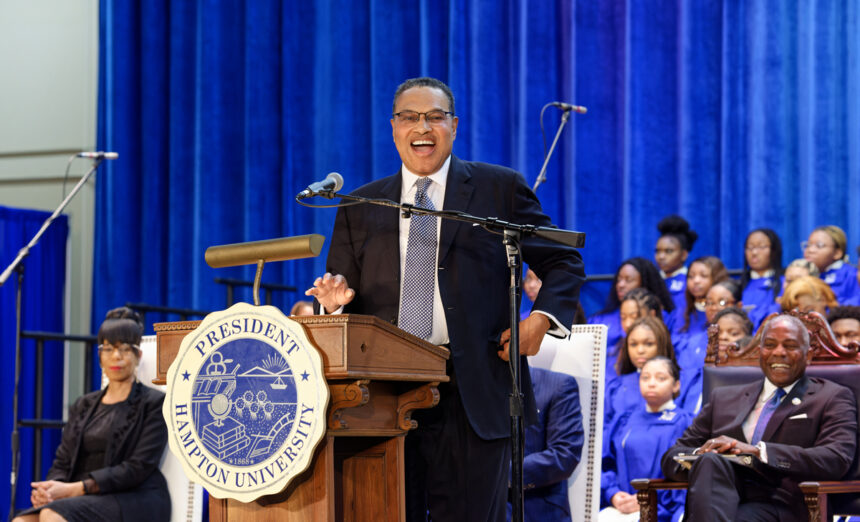 "Though a visionary, General Armstrong could never have imagined that one day an African American would also be a military general and the president of this institution," Dr. Hrabowski said during a motivational address in the historic Robert C. Ogden Auditorium on the Hampton campus. "I want us to celebrate today the idea of this journey of leadership and excellence," Hrabowski said.
Hrabowski and his wife Jacqueline are both 1970 graduates of then Hampton Institute and are generous supporters of their alma mater. In 2018, Hampton University recognized their generosity with the naming and dedication ceremony of the Freeman and Jacqueline Hrabowski Student Success Center.
During his speech, Hrabowski said, "Hampton is the number one producer of African Americans who earn Ph. Ds in natural sciences and engineering in the country. You're in the top five." During his rousing and inspiring speech, he challenged every student to stand and repeat, "Thoughts, words, actions, habits, character, destiny. Your thoughts become your words; your words become your actions; your actions become your habits; your habits become your character; and your character becomes your destiny. We become what we think we are," said Hrabowski.
During the Founder's Day ceremony, President Williams presented the Hampton University Presidential Citizenship Award to Dr. Jeffery O. Smith, superintendent of Hampton City Schools.  Dr. Smith began his tenure as superintendent on July 15, 2015.  Under his leadership, the division's 32 schools earned full accreditation without conditions in 2019. University Chancellor and Provost Dr. JoAnn W. Haysbert presented the Hampton University Professors Emeriti Mamie E. Locke, Ph.D., Department of Political Science, History, and International Studies; and Isai Urasa, Ph.D., Department of Biochemistry and Chemistry. Mr. Novelle Dickenson, president of the Hampton University Quarter-Century Club, recognized the 2023 Quarter-Century Club inductees. Senior English major and history minor Ms. Margaret Daramola stole the show with the recitation of her original poem "Promised Land." She was the winner of the Hampton University Student Poet Initiative Award. Professor Omar Dickenson conducted the University Choir in two soul-stirring musical selections.