Hampton, Va. (January 24, 2023) – Hampton University senior Margaret Daramola was selected to deliver her poem "Promised Land" during the 130th Annual Hampton University Founder's Day Ceremony. Daramola is the winner of the Hampton University Student Poet Initiative Award.
"We are excited that Margaret is the recipient of this distinguished award. The student Poet Initiative is the brainchild of our illustrious President Williams, who continues to create opportunities for our students, faculty, and staff," said Dr. Linda Malone-Colon, dean, School of Liberal Arts and Education; and primary investigator for the Center for Teaching and Learning in the Humanities, Arts, and Sciences.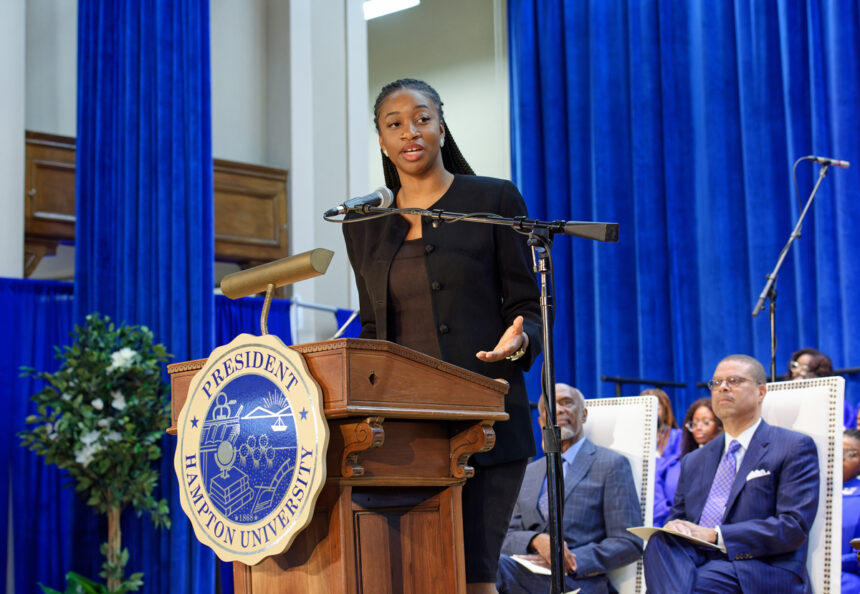 The poem tells the story of Hampton University. "By concretizing my experience at HU, I aim to tell a story of resilience, using an extended metaphor to which every Hamptonian can relate," says Daramola. While writing the poem, she says Hampton University's student body, faculty, and history were considered. "With this poem, I wish to remind the students of their resilience and the faculty of their immeasurable value," said Daramola.
Daramola was born in Nigeria and grew up in Switzerland. The English and history major is the recipient of the prestigious Mellon Mays Undergraduate Fellowship. She chose to attend Hampton University because, as she says, "I was very interested in African history and African American literature. What attracted me to Hampton was its curriculum in the School of Liberal Arts and Education. I came to Hampton on a full-ride scholarship to play volleyball. Playing Division I volleyball in the USA was a dream come true. It was through athletics that I got my foot in the door."
Pathway Through Survival is a collection of poetry published by Daramola about healing. She wants young people to remember that "healing may not look like what we envision it to look like, but it will come if we persevere and work on it," said Daramola.
"Margaret is truly one of Hampton's student stars and is a shining example of the promising individuals that we attract to Hampton and that we nurture towards excellence and to realize their full potential, "said Malone-Colon.
Founder's Day occurred on Sunday, January 29 at 11:30 a.m. in Robert C. Ogden Hall.