Hampton, VA (February 8, 2023) – Hampton University President Darrell K. Williams has named Anthony D. Henderson, Sr. as the new director of athletics. Henderson is a nationally recognized leader in collegiate athletics and has 20 years of progressive athletics leadership experience. His appointment is effective February 27.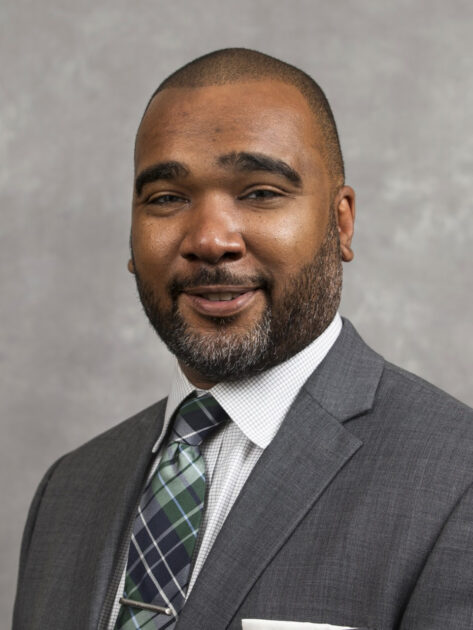 "We are very pleased that Anthony is joining our team," stated President Williams. "He brings significant broad experience in critical areas necessary to elevate Hampton's championship excellence. His reputation with the broader athletics community is second to none. We cannot wait to experience the impact of Anthony's leadership within higher education athletics."
Henderson comes to Hampton from Yale University where he served as deputy director of athletics, leading all revenue generation and extending the brand and messaging of Yale Athletics through private philanthropy, corporate support, ticket sales, marketing efforts, community engagement, strategic communications and diversity, equity, and inclusion.
Prior to Yale, Henderson was the senior associate athletics director and executive director of athletics advancement at William & Mary, leading athletics philanthropic strategies and assisting in ensuring financial stability for The Tribe. Additionally, he was the sport administrator for the football program. Henderson also has served as the associate athletics director at the University of Akron where he was responsible for day-to-day operations of the Z-Fund, the fundraising arm of Akron Athletics and each of its 20 sports, including fundraising for capital projects, scholarships, and major gifts.
"I am extremely excited about being named Hampton University's director of athletics," Henderson said. "Hampton is home for me. I was a student –athlete who played football here, and I am a proud Hampton graduate. To return as the leader of this department is surreal and an auspicious honor. I look forward to continuing the legacy of producing championships and creating transformational opportunities for our student –athletes, inside and outside of the classroom."
Prior to joining the University of Akron, Henderson served as assistant director of athletic development at Old Dominion University (ODU). He managed donor relationships and helped grow the Old Dominion Athletic Foundation's endowment to more than $16 million. Additionally, he contributed to increasing the overall donor membership to 52% during his tenure.
Preceding his employment with ODU, Henderson worked as the senior account executive at The Event Authority, LLC, in Charlotte, NC; the Mid-Eastern Athletic Conference (MEAC) in Virginia Beach, VA; Disney Sports Attractions in Orlando, FL; and the Richmond Braves baseball club in Richmond, VA.
As an outstanding athletics administrator, Henderson was selected from among 25 senior-level administrators from across the country to participate in the prestigious 2018 NCAA Pathway Program. The program is designed to elevate those currently in senior-level positions within athletics administration to the next step in reaching their goal of becoming directors of athletics.
Henderson, a Hampton 40 under 40 honoree (2016), holds professional credentials from the National Association of Collegiate Directors of Athletics (NACDA), the National Association of Athletic Development Directors (NAADD) in which he has served as a conference representative for two separate terms (Peach Belt Conference 2011-2013; Mid-American Conference 2013-2015), the Minority Opportunities Athletic Association (MOAA), and the Council for Advancement and Support of Education (CASE). He is a two –time recipient of the NAADD Diversity Award, selected for the inaugural class of 10 individuals for the NAADD Executive Committee Mentor Program, and is a graduate of the 2011 Dr. Charles Whitcomb NCAA Leadership Institute. He also has been a participant of the NACDA Senior Level Administrators Mentoring Institute, Collegiate Athletics Leadership Symposium, LEAD1 (Formerly D1A Athletic Directors') Association Institute and is also a former Board Member of the Boys and Girls Club of the Western Reserve in Akron.
While competing as a student-athlete on the Hampton University football team, Henderson earned his Bachelor of Science degree in marketing. He played defensive back for the Pirates and was a part of the team that won two MEAC regular-season championships and advanced to the NCAA I-AA playoffs in each of those seasons. He also holds a master of science degree from Virginia Commonwealth University in Sports Leadership where he graduated cum laude.
Henderson will report directly to the University President, serve as a member of the President's Council, and oversee 17 NCAA Division I varsity athletic programs.