MSNBC President Rashida Jones Headlines Alumni Honorees
(HAMPTON, VA) – Hampton University's Scripps Howard School of Journalism & Communications alumna and MSNBC President Rashida Jones headlines the school's distinguished alumni, as SHSJC prepares for its 20th-year anniversary celebration on Feb. 10, 2023, Dean Julia A. Wilson announced today.
The celebration commemorates the $10 million donation in 2002 from the Scripps Howard Foundation. The gift was made during the tenure of the Foundation's former president and chief executive officer, Judith Clabes, a champion for excellence in journalism and journalism education. The Foundation, the longtime philanthropic arm of, The E.W. Scripps Company, is now an affiliate of the newly created public-facing Scripps Howard Fund.
Dean Wilson will present SHSJC's coveted Achievement of Excellence Award to Jones, a 2002 graduate, while 2011 alumna Jessi Mitchell of WCBS-New York and 2008 alumnus Justin Tinsley of ESPN will be inducted into the school's Hall of Fame.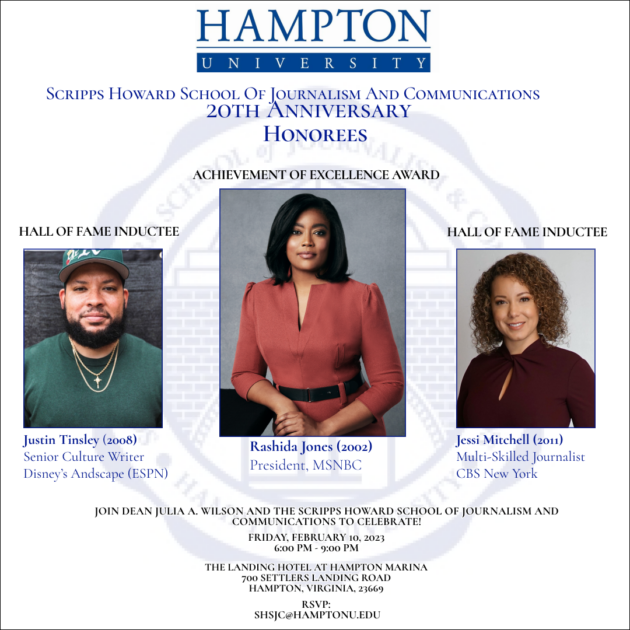 "To paraphrase the famous Frank Sinatra song, 2002 was indeed 'a very good year,'" Wilson said. We are grateful to Judith Clabes for the opportunity to relocate the great work done in the Mass Media Arts department into its own building as part of the Scripps Howard School of Journalism and Communications. We're delighted to honor Rashida Jones who was a shining star among the talented SHSJC graduating class that first year. She has gone on to run MSNBC, one of our nation's most prominent and successful cable news networks. We are delighted to have her join our celebration – and salute her achievements with our school's highest award."
"Hampton University is a living reflection of our own company's motto, that is: 'Give light and people will find their way," said Adam Chase, vice president and general manager at WTKR, The E.W. Scripps station in Norfolk, VA. "We're proud of our longtime partnership with Hampton, helping to foster workplace diversity and providing the media industry with qualified journalists and communication professionals."
WCBS' Mitchell attended Hampton University on full academic scholarship and graduated magna cum laude, with a degree in broadcast journalism and a minor in Spanish. ESPN's Tinsley is a senior sport and culture reporter at that network and is the author of the hip hop music icon's chronicle, "It Was All a Dream: Biggie and the World that Made Him."
"We are fiercely proud of these highly accomplished graduates," Wilson said. "They are emblematic of our school's acumen in, and commitment to, producing world-class journalists." She added that the school still is accepting commitments from news groups, public relations organizations and other corporations to present their companies' opportunities to students and offer student interviews and 'a foot in the door' at the all-day Career Fair that precedes the evening award presentations. A total of 30 companies can be accommodated in the school building for the Career Fair, with each company contributing a $1,000 or $1,500 donation.
The 20th anniversary celebration culminates with a media star-studded evening reception for alumni, students, sponsors and corporations at The Landing Hotel Marina, near the school. The celebration will include past and present leaders of the school, students, faculty, staff and alumni. SHSJC's namesake, Scripps Howard Fund and the E. W. Scripps Company, will serve as the event's 'Presenting Sponsor;' while The Washington Post, GrayTV, Virginia Association of Broadcasters and WAVY-TV are participating donors for the Career Fair.
"We thank the Scripps organization for our longstanding and treasured partnership, as well as its gracious sponsorship of this special event," Wilson said. "And, we're honored to have news icons and strategic communications companies such as The Washington Post, our local TV stations and the Virginia Association of Broadcasters among our participants.
"We believe media companies; corporate communication recruiters and other participants will find some outstanding potential employees and interns at this historic event. This 20th anniversary reflects our school's legacy of providing a stellar "Standard of Excellence" in teaching and service to our students," Wilson continued. "For our media and corporate partners, it is a reminder of our commitment to pursuing academic excellence and innovation in a fast-changing news and media landscape. And we appreciate our partners' ongoing financial and intellectual support, as we build on our legacy, and continue making plans to create a Global Media Center that will prepare our students for careers in the global marketplace."
For more information, please contact Assistant Dean Carol Crabbe (757) 727-5405 or shsjc@hamptonu.edu).
###
About The Scripps Howard Fund
The Scripps Howard Fund is a public charity that supports philanthropic causes important to The E.W. Scripps Company (NASDAQ: SSP) and the communities it serves, with a special emphasis on journalism education, excellence in journalism and childhood literacy. At the crossroads of the classroom and the newsroom, the Fund is a leader in supporting journalism through scholarships, internships, minority recruitment and development and First Amendment causes. The Scripps Howard Awards stand as one of the industry's top honors for outstanding journalism, and the Fund's annual "If You Give a Child a Book …" childhood literacy campaign has distributed thousands of new books to children in need across the nation. In support of its mission to create a better-informed world, the Fund also partners with Scripps brands to create awareness of local issues and support organizations that help build thriving communities.The Scripps Howard Foundation, an affiliated organization with the Scripps Howard Fund, supports Scripps' charitable efforts through its endowment, key assets and major donations.
About Hampton University
Hampton University is a comprehensive institution of higher education, dedicated to the promotion of learning, building of character, and preparation of promising students for positions of leadership and service. Its curriculum emphasis is scientific and professional with a strong liberal arts undergirding. In carrying out its mission, the University requires that everything that it does be of the highest quality. A historically black institution, Hampton University is committed to multiculturalism. The University serves students from diverse national, cultural and economic backgrounds. Research and public service are integral parts of Hampton's mission. To enhance scholarship and discovery, the faculty is engaged in writing, research, and grantsmanship. In achieving its mission, Hampton University offers exemplary programs and opportunities which enable students, faculty and staff to grow, develop and contribute to our society in a productive and useful manner. Visit www.hamptonu.edu for more information.
About the Scripps Howard School of Journalism and Communications
Founded in 2002, the Scripps Howard School of Journalism and Communications emphasizes excellence and innovation while adhering to the core standards and ethical principles of the industry. The Scripps Howard School is equipped with a professional television studio and control room, a live, FM radio station (WHOV 88.1 MHz) with digital streaming to the Internet, high-tech classrooms equipped with state-of-the-art Promethean boards and a 150-seat stadium-style media auditorium. Students and alumni have worked internship positions and launched media careers with top-ranked organizations such as Google, NPR, Radio One, St. Petersburg Times, The Washington Post, Essence Magazine, Time Magazine, ESPN, USA Today, Bloomberg News, Ogilvy, Burson-Marsteller, ABC, CBS, NBC, CNN and many more.