HAMPTON, Va. — Hampton University President Darrell K. Williams introduced Anthony D. Henderson, Sr., as the new director of athletics at a press conference February 23 in the Convocation Center lobby. "We have been and always will be a championship athletic program," said Williams. "The young men and women that represent our athletic program are some of the greatest ambassadors of this University and selecting their new leader who will work hand and glove with me was so very, very important."
Henderson comes to Hampton from Yale University where he served as deputy director of athletics, leading all revenue generation and extending the brand and messaging of Yale Athletics through private philanthropy, corporate support, ticket sales, marketing efforts, community engagement, strategic communications, diversity, equity, and inclusion.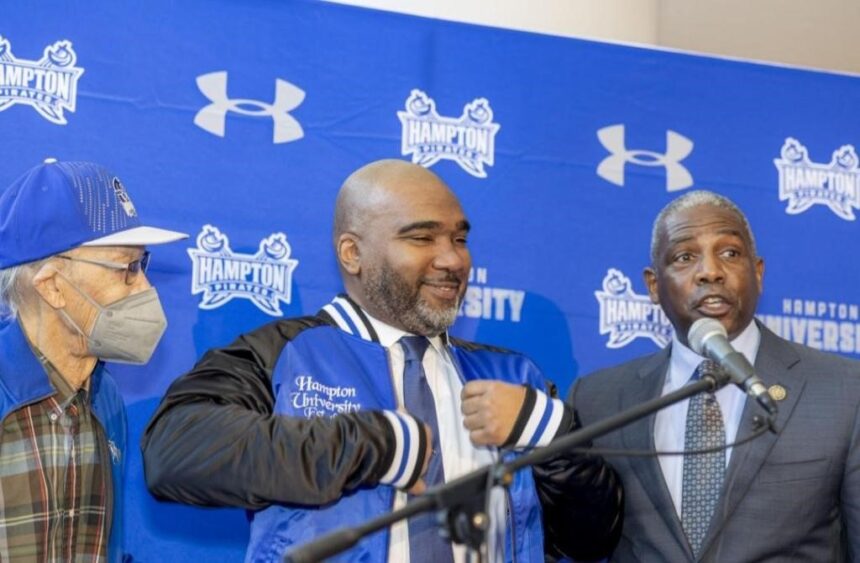 Prior to Yale, Henderson was the senior associate athletics director and executive director of athletics advancement at The College of William & Mary, leading athletics philanthropic strategies and assisting in ensuring financial stability for The Tribe. Additionally, he was the sport administrator for the football program. Henderson also has served as the associate athletics director at the University of Akron where he was responsible for day-to-day operations of the Z-Fund, the fundraising arm of Akron Athletics and each of its 20 sports, including fundraising for capital projects, scholarships, and major gifts.
"I came here in 1995 as an 18-year- old from Powhatan, Va., first generation college graduate," said Henderson '00. "The life lessons that I took from here playing under Coach Taylor and the professors that poured into me while I was here; there is no way that I am standing here in this position without all of that behind me."
Prior to joining the University of Akron, Henderson served as assistant director of athletic development at Old Dominion University (ODU). He managed donor relationships and helped grow the Old Dominion Athletic Foundation's endowment to more than $16 million. Additionally, he contributed to increasing the overall donor membership to 52% during his tenure.
Preceding his employment with ODU, Henderson worked as the senior account executive at The Event Authority, LLC, in Charlotte, NC; the Mid-Eastern Athletic Conference (MEAC) in Virginia Beach, VA; Disney Sports Attractions in Orlando, FL; and the Richmond Braves baseball club in Richmond, VA.
In sync with President Williams's vision of providing the number one student experience, Henderson describes the athletics department using the acronym, ELITE:
E is for excellence. It's in our charter. Standard of excellence.
L is for leadership. I want our student athletes to know that they have leaders that they can come to in our department.
I is for integrity. We will do things the right way; we'll follow the rules and we'll win with class.
T is for teamwork. That is what we're built on.
E is for energy. You have your attitude and your output; making sure everybody's focused and on the right page. That is one of our core values as well.
"He brings a championship mentality and he brings the skills and the attitude necessary to lead this great group of student athletes and all of our coaches," said Williams. "We could not ask for more. So he has my support and I know he will have the support of this entire institution."
Henderson will report directly to the University president, serve as a member of the Administrative Council, and oversee 17 NCAA Division I varsity athletic programs.
For more information on Hampton University football, contact the Office of Sports Information at (757) 727-5757, or visit the official Pirates website at https://home.hamptonu.edu/.