Hampton, Va. (Feb. 28, 2023) – Hampton University alumna and MSNBC President Rashida Jones recently received the Scripps Howard School of Journalism and Communications' top honor, the Achievement of Excellence Award, during the school's 20th-year, all-day celebration, that included a career fair featuring some of the nation's leading news organizations and corporate recruiters.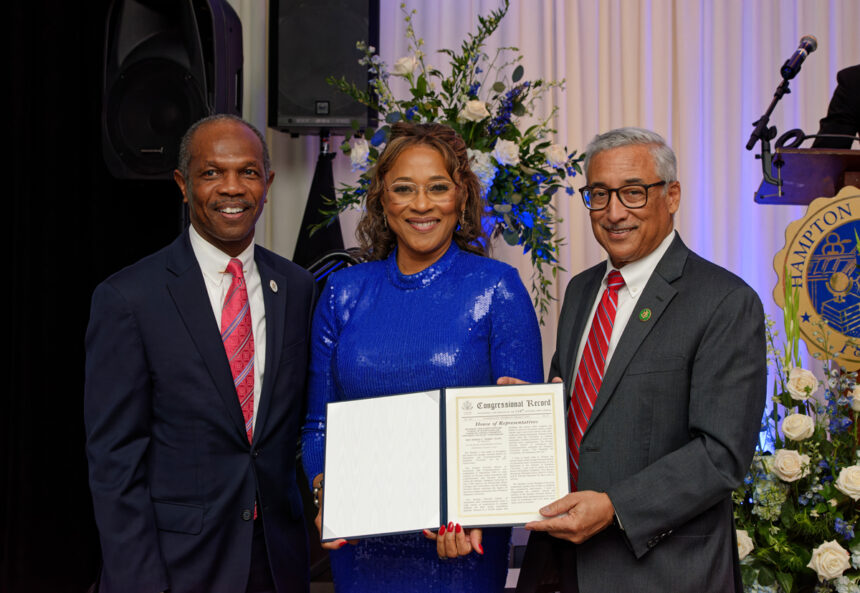 The career fair highlighted prominent news and public relations firms that interviewed SHSJC 2023 upcoming graduates and continuing students for prospective employment and internship opportunities. The fair was held in the 20-year-old SHSJC building on campus and concluded with a networking gala and program honoring three of the school's accomplished alumni at the Landing Hampton Marina hotel.
"Over the years, the Scripps Howard School has offered relevant curricula and innovative programming that have produced some of the best media professionals in the country," said University President Darrell K. Williams. "This great accomplishment underpins Hampton's presence on the world stage as THE Standard of Excellence and, at the same time, supports our aim to Deliver the No. 1 Student Experience in America! For that you are to be commended."
Williams and Julia A. Wilson, dean of the Scripps Howard School of Journalism and Communications, share an expanded and ambitious vision for the school.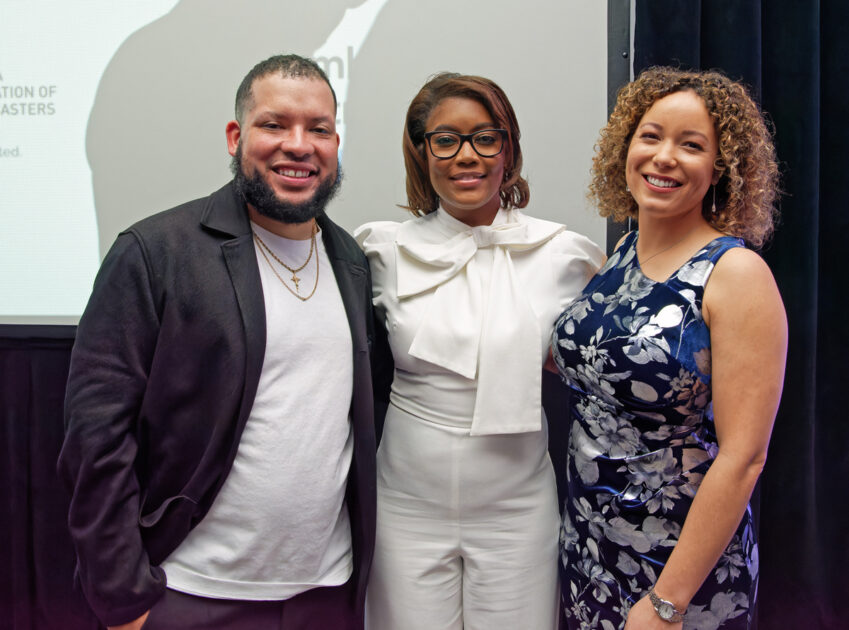 "The good thing about both the president and my having our first year is that our 'global vision' is in sync. He believes in international programs and has traveled the world," Wilson said. "Prior to joining Hampton University, I operated an international public relations company for the past 25 years. I've lived and/or worked in 13 countries and those experiences have broadened my world view and vision to ensure that our school's students are culturally literate and globally competitive."
"To accomplish this goal, we plan to build a Global Media Center at our school in which top international journalists, thought leaders and strategic communications professionals can share various cultures and professional experiences with our students. We want to prepare our students for global competition."
Jones, president of MSNBC and an '02 graduate, commended SHSJC for its commitment to excellence when receiving the coveted Achievement of Excellent Award.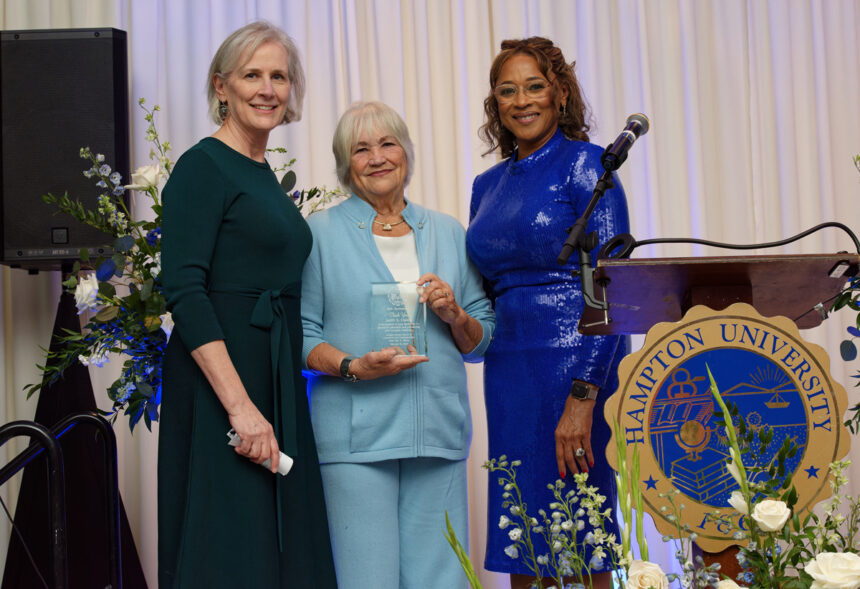 "One of the things that I always take away from my time at Hampton was this expectation of excellence," Jones said. "We learned that early on. It was part of the curriculum; it was part of everything that we did and it's the one thing that has stuck with me all this time."
Two other SHSJC alumni were inducted into the Hall of Fame – Justin Tinsley, of the '08 class and Jessi Mitchell of the '11 class. Tinsley is a senior culture writer at Disney's Andscape (ESPN).
"I can't talk about the Hampton experience and my career without linking them together," Tinsley said. "I am not where I am right now without Hampton. I am not where I am right now without Scripps Howard, and I thank God every day that He led me in the direction to come to this University."
Mitchell, a multi-skilled journalist at WCBS-TV New York, recently won an Emmy for her work covering the COVID pandemic.
"Allowing people to tell their stories through my lens was really impactful and I knew the importance of my work. So being honored through the CBS Morning Show for my contributions was really incredible," Mitchell said. It's a national award; that means we're the best of the best. That really means a lot."
Liz Carter, the current president and CEO of the Scripps Howard Fund introduced Judy Clabes, her predecessor who presented the $20 million gift 20 years ago to build and establish the school.
"It was a long, drawn-out process to select the right place," Clabes said. "Part of that selection was we were looking for a place that would take this gift, grow it, expand it and send journalists out into the world to do good work. And I am saying to you, young people here tonight, go save Democracy."
###
About The Scripps Howard Fund
The Scripps Howard Fund is a public charity that supports philanthropic causes important to The E.W. Scripps Company (NASDAQ: SSP) and the communities it serves, with a special emphasis on journalism education, excellence in journalism and childhood literacy. At the crossroads of the classroom and the newsroom, the Fund is a leader in supporting journalism through scholarships, internships, minority recruitment and development and First Amendment causes. The Scripps Howard Awards stand as one of the industry's top honors for outstanding journalism, and the Fund's annual "If You Give a Child a Book …" childhood literacy campaign has distributed thousands of new books to children in need across the nation. In support of its mission to create a better-informed world, the Fund also partners with Scripps brands to create awareness of local issues and support organizations that help build thriving communities. The Scripps Howard Foundation, an affiliated organization with the Scripps Howard Fund, supports Scripps' charitable efforts through its endowment, key assets and major donations. For more information please visit: https://scripps.com/fund/
About the Scripps Howard School of Journalism and Communications
Founded in 2002, the Scripps Howard School of Journalism and Communications emphasizes excellence and innovation while adhering to core industry standards and ethical principles. The Scripps Howard School is equipped with a professional television studio and control room, a live, FM radio station (WHOV 88.1 MHz) with digital streaming to the Internet, high-tech classrooms equipped with state-of-the-art Promethean boards and a 150-seat stadium-style media auditorium. Students and alumni have worked in internship positions and launched media careers with top-ranked organizations such as Google, NPR, Radio One, The Washington Post, Essence Magazine, Time Magazine, ESPN, USA Today, Bloomberg News, Ogilvy, Burson-Marsteller, ABC, CBS, NBC, CNN and many more. Visit: https://home.hamptonu.edu/shsjc/ for more information.
About Hampton University
Hampton University is a comprehensive institution of higher education, dedicated to the promotion of learning, building of character, and preparation of promising students for positions of leadership and service. Its curriculum emphasis is scientific and professional with a strong liberal arts undergirding. In carrying out its mission, the university requires that everything that it does be of the highest quality. A historically Black institution, Hampton University is committed to multiculturalism. The university serves students from diverse national, cultural and economic backgrounds. Research and public service are integral parts of Hampton's mission. To enhance scholarship and discovery, the faculty is engaged in writing, research, and grantsmanship. In achieving its mission, Hampton offers exemplary programs and opportunities which enable students, faculty and staff to grow, develop and contribute to our society in a productive and useful manner. Visit www.hamptonu.edu for more information. For more information please visit: https://home.hamptonu.edu/
###