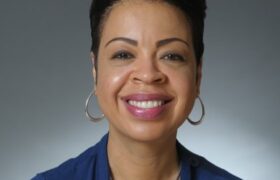 Hampton, Va. (May 2, 2023) –Hampton University Professor Susanne L. Toney, Ph.D., teaches students about understanding the best use of credit cards and shares tips on decisions about money as they begin their careers and enter the real world. As an expert for business and finance, Dr. Toney expanded her classroom reach to include WalletHub online readers.
"I am glad to be featured on WalletHub and to have multiple opportunities to share tips for improving financial literacy," said Dr. Toney who serves as Edwin G. Nourse Endowed Chair of Business and Economics, Center for Entrepreneurship, Economics, Finance and Accounting and Enactus Faculty Advisor at the James T. George School of Business. "It is my hope that sharing such knowledge will help to bridge the wealth gap."
In the classroom, Dr. Toney says her goal is to educate students early on the importance of spending money wisely, investing and saving for the future, and maintaining good credit. "We often lag behind other communities in the area of financial literacy, especially building and securing wealth for future generations." Instructing students on financial independence and sustainability fulfills the President's vision to deliver the #1 student experience in America."
When questioned if consumers place too much emphasis on a credit card's annual fee, Dr. Toney advises consumers to focus on late fees, rather than annual fees. She adds, it is smart to have a no-annual fee card for emergencies.
In "Best Credit Cards with No Annual Fee WalletHub, Experts Track 1,500+ Offers to Help You Get the Best No Annual Fee Credit Card," John Kiernan, Credit Card Editor, discusses the pros and cons of cards that do not charge membership fees for owning the card. WalletHub is an award-winning personal finance company that empowers consumers to lead financially healthy lives. WalletHub is available on the App Store and Google Play.
For more information, visit: https://wallethub.com/credit-cards/no-annual-fee/#expert=Susanne_L._Toney [wallethub.com]
###