Dr. Jeanette Davis, also known as Dr. Ocean, Collaborates with Colleagues to Receive $3 Million U.S. National Science Foundation Grant


Hampton, Va. (May 3, 2023) – Hampton University Adjunct Professor Dr. Jeanette Davis, Marine Microbiologist and ocean science consultant on the movie, Black Panther: Wakanda Forever at Marvel Studios, was part of a team of collaborators who were recently awarded a $3 Million U.S. National Science Foundation (NSF) grant for the marine science department to support the next generation of young scientist.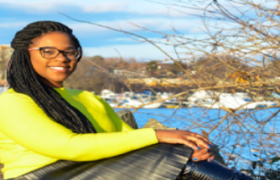 Dr. Davis, also known as Dr. Ocean, lectures on international stages, speaking about the importance of empowering young people through science. She holds membership on several graduate advisory committees and has been featured in Ebony, Essence, and Black Enterprise as the "next great marine biologist." She has worked with distinguished scientists to author a national publication released from the White House that highlights essential ocean research and technology topics for the next decade.
The Hampton alumna is a two-time best-selling author of children's science books. Her first book, Science is Everywhere, Science is for Everyone, was ranked #1 Featured Children's book on Amazon. A second book, Jada's Journey Under the Sea, highlights marine life and ways to care for and protect the ocean. Young readers learn about geology, chemistry, microbiology, anatomy, and astronomy in a fun and innovative way.
Dr. Davis' work to increase research and innovation reflects President Williams' vision to distinguish Hampton among institutions of higher learning. She earned her B.S. in Marine and Environmental Science from Hampton University and a Ph.D. in Marine Microbiology from the University of Maryland where she focused on marine drug discovery.
For more information, visit: https://drjeanettedavis.com/
###