FOR IMMEDIATE RELEASE
Hampton, Va. (May 19, 2023) – Hampton University honored Felicia M. Gardner, Esq., '03, with the 2023 Outstanding 20-Year Alumni Award at its spring 2023 commencement ceremony on May 14.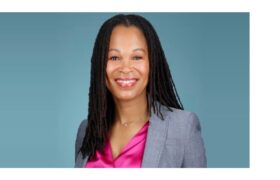 The Charlotte, North Carolina, resident, was recognized for her distinguished career in the legal and financial services industries. As Associate General Counsel and Senior Vice President at Bank of America, Gardner led a team of eight associates and managed the bank's employment-related litigation, agency charges and investigations, and compliance matters. Specifically, she worked to ensure enterprise compliance with the U.S. Department of Labor, Equal Employment Opportunity Commission, and Office of Federal Contract Compliance Programs (OFCCP). She also monitored for, analyzed, and translated compensation law updates and cases surrounding pay transparency, payroll practices, wage and hour matters, and more. She managed a complex settlement through mediation; orchestrated end-to-end evaluations and process reviews to ensure OFCCP compliance, including downstream implications across the global human resources division; and advised on strategy for transformational process improvements.
Gardner, who earned her J.D. cum laude from Georgetown Law Center and B.S. summa cum laude from Hampton University, recently joined Moore & VanAllen PLLC as a member of their Employee Benefits and Compensation team. She launched her career at Johnson & Johnson, serving as a financial analyst to eventually become Senior Financial Analyst. In 2009, she joined the international law firm of McGuire Woods, LLP and rose through the ranks as an associate and then partner until 2018.
Gardner was recognized as a Charlotte Business Journal 40 Under 40 honoree in 2021 and named to the Super Lawyers "Rising Stars" list in 2019. She is an involved member of the Junior League of Charlotte, YMCA of Greater Charlotte, including as a member of its Diversity and Inclusion Global Committee, and the Leadership Council on Legal Diversity. She is a dedicated volunteer with Thompson Child & Family Focus.
The Outstanding 20-Year Alumni Award is presented to those who have made significant contributions in their chosen fields, demonstrated the importance of their education at Hampton University, participated in leadership roles within the community, and proven a commitment to their alma mater. Gardner was nominated by the National Hampton Alumni Association, Inc.
For more information about Alumni activities, click here.
###