Educator Exemplifies Leadership Among Peers,Teacher-Scholar Model and Student Achievement
FOR IMMEDIATE RELEASE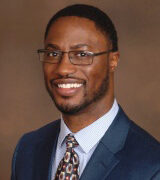 Hampton, Va. (May 19, 2023) – Dr. Demetris L. Geddis, Assistant Dean and Chair of Electrical and Computer Engineering, SET – Electrical and Computer Engineering, received the 2023 Edward L. Hamm, Sr. Distinguished Teaching Award, an annual recognition of faculty excellence awarded by Hampton University President Darrell K. Williams during Commencement ceremony.
The award, endowed in 1994 by former Hampton University Trustee Edward L. Hamm, Jr., in honor of his father, recognizes one or two full-time faculty members who have been nominated by their peers and students and selected by the President. The award may be used to advance the scholar's professional, intellectual, or cultural development.
Dr. Geddis earned his Bachelor of Science in Electrical Engineering from Hampton University and Master of Science and Ph.D. in Electrical and Computer Engineering from the Georgia Institute of Technology. Prior to joining HU, Dr. Geddis was an Associate Professor at Norfolk State University where he served as a Graduate Program Coordinator, Department Advising Coordinator, and Director of the Micro- and Nano- Technology Center Cleanroom.
Dr. Geddis serves as the Vice-Chair of the Hampton Roads Section of IEEE, the world's largest technical professional organization dedicated to advancing technology for the benefit of humanity. He is also Chair of the Photonics Society of Hampton Roads.
For more information on the Hampton University Electrical and Computer Engineering Department, click: here
###